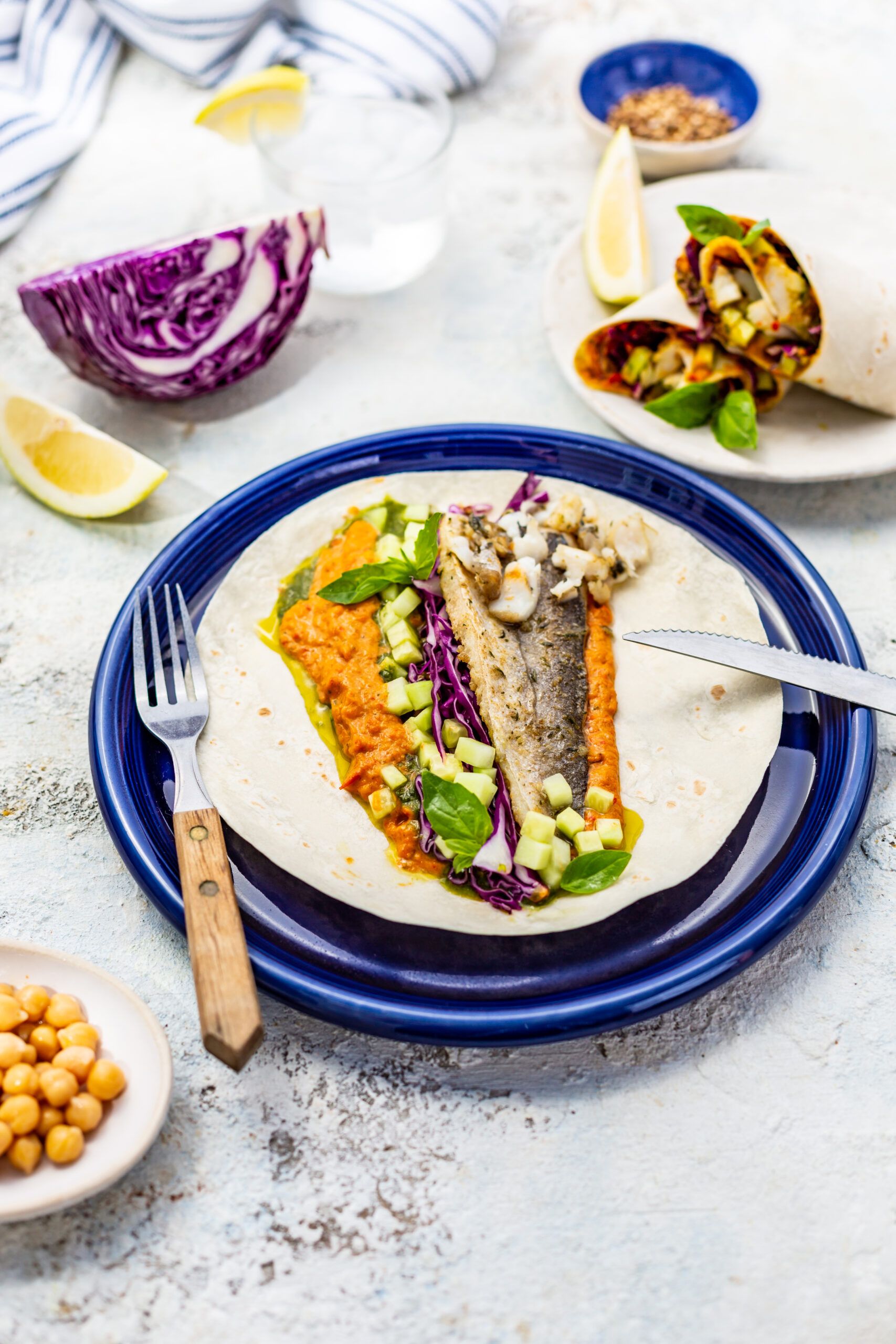 Fish recipes
Pescanova Grilled Hake, Red Pepper Hummus and Herb Pesto Wrap
Homemade tortillas, the bread component of this rustic dish, is the perfect vehicle for all these delicious Mediterranean flavours. The wraps are topped with a cumin, paprika and coriander-spiced hummus and delicate flaked fish with a refreshing herb pesto. It's perfect for a lunch on the go, weekday dinner or for casual entertaining over the weekend.
Recipe by: Nyasha Dhliwayo
Image by: Ruben Steyn
Wine pairing by: Cameron Bishop

1-2 hours

Beginner
For the tortilla wraps, sift the flour, baking powder and salt together. Mix the oil in with a fork. Add the water and mix to form a dough. Knead, 8 minutes. Place in a lightly oiled bowl, cover with a damp cloth and set aside to rise, 15 minutes.
Divide the dough into 4 balls and roll each ball into a disc that is 2mm in thickness. Heat a large cast iron pan until smoking hot and toast the wraps, 15 seconds per side.
For the red pepper hummus, heat the oil in a large pan over medium heat. Add the red peppers, garlic and onion and sauté, 5 minutes. Stir in the cumin, coriander, paprika and cayenne pepper and sauté, 5 minutes. Cool, 10 minutes.
Add the red pepper mixture to a food processor with the chickpeas, origanum leaves, lemon juice and salt. Blend until smooth, 5 minutes.
For the grilled hake, pre-heat the oven to 200°C.
Blend the garlic, oil, lemon juice, thyme leaves and cumin together. Pour this over the hake fillets and coat evenly. Season lightly with some salt. Grill in the oven, 10 minutes. Remove the skin.
For the herb pesto, add the basil and parsley to a food processor. Blend whilst pouring in the oil, in a slow and steady stream. Blend in the lemon juice and season to taste.
To serve, spoon some hummus onto the side of each wrap, flake the fish on top, add some cucumber, cabbage, basil leaves and a drizzling of the pesto. Roll each wrap up to encase the filling and serve with lemon wedges on the side.
TIP: For fish with a crispy skin grill for an extra 5 minutes until crisp.
Wine pairing: Pinotage Rosé, Simonsberg Stellenbosch region

Recipe for 4 people
Ingredients:
TORTILLA WRAPS INGREDIENTS:
375ml (1½ cup / 180g) cake flour
1.25ml (¼ tsp) baking powder
pinch of salt
45ml (3 tbsp) sunflower oil
125ml (½ cup) warm water
RED PEPPER HUMMUS INGREDIENTS:
75ml (5 tbsp) sunflower oil
2 (280g) red peppers, deseeded and sliced
5 (10g) cloves garlic, chopped
½ (130g) large onion, sliced
15ml (1 tbsp) ground cumin
15ml (1 tbsp) ground coriander
2.5ml (½ tsp) paprika
1.25ml (¼ tsp) cayenne pepper
¼ (50g) tin chickpeas, drained
3 sprigs oreganum
45ml (3 tbsp) lemon juice
7.5ml (1½ tsp) salt
GRILLED HAKE INGREDIENTS:
3 (6g) garlic cloves
60ml (¼ cup) sunflower oil
10ml (2 tsp) lemon juice
2 sprigs thyme
5ml (1 tsp) ground cumin
4 (390g) Namibian baby hakes, thawed and filleted
salt, to season
HERB PESTO INGREDIENTS:
60ml (¼ cup) basil leaves
60ml (¼ cup) parsley leaves
75ml (5 tbsp) sunflower oil
15ml (1 tbsp) lemon juice
salt, to season
TO SERVE:
60g cucumber, diced
150g red cabbage, shredded
handful basil leaves
4 lemon wedges