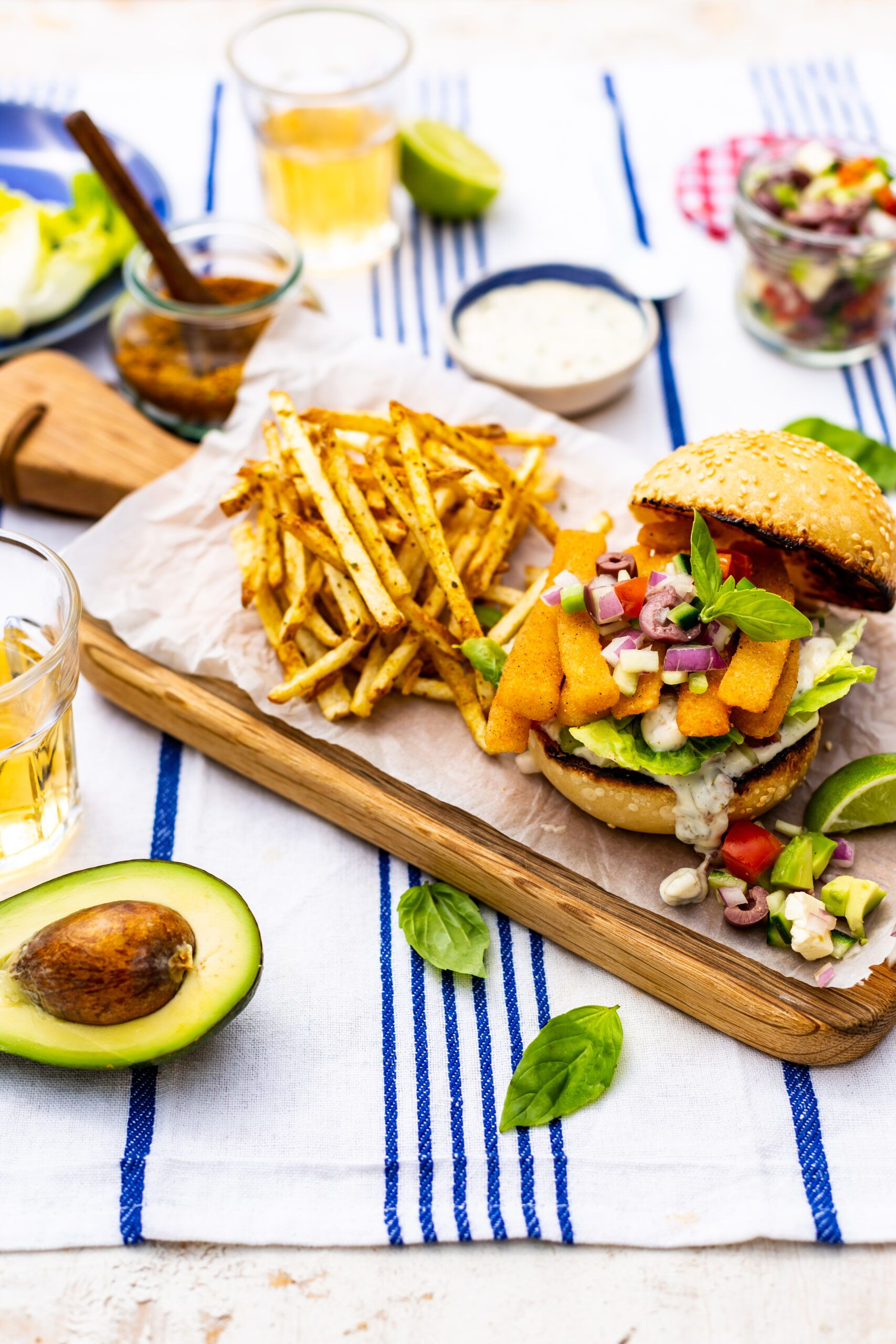 Fish recipes
Greek Fish Burger With Spicy Chips and Tartar Sauce
This burger recipe was inspired by the ocean and how we, as South Africans, enjoy the classic combination of fish and chips! It consists of a traditional Greek salsa that is perfect with the crisp fried seafood and creamy tartar sauce. To add a bit of a local twist to this Mediterranean-inspired burger it is served with some spicy Cape-Malay chips. It's the perfect recipe for lunchboxes, picnics, quick weekday dinners and lazy weekend family get-togethers.
Recipe and image by: Nické Spies
Wine pairing by: Cameron Bishop

30-60 min

Beginner
Pre-heat the oven to 200°C.
For the tartar sauce, whisk all of the ingredients together and refrigerate until needed.
For the Greek salsa, combine all of the ingredients and season to taste. Refrigerate until needed.
For the chips, heat the oil for deep-frying to 180°C. Toast the curry spice in a dry pan, 1 minute, and set aside. Cut the potatoes into thin chips, leaving the skins on. Deep-fry the chips until golden and crisp, 5 minutes.  Drain on kitchen paper. Season the hot chips with the toasted curry spice and salt.
To serve, deep-fry the crumbed formed strips until golden, 5 minutes. Drain on kitchen paper.
Assemble the burgers by placing a dollop of tartar sauce on the base of each bun followed by some shredded lettuce, the crumbed strips and salsa. Scatter some basil on top and serve the burgers with the chips and lime wedges on the side.
TIP: This burger can be transformed into an authentic Greek pita by placing the fish, salsa and tartar sauce into a toasted pita pocket – perfect for eating on the go.
Wine pairing: Chenin Blanc, Stellenbosch region

Recipe for 4 people
Ingredients:
TARTAR SAUCE INGREDIENTS:
45ml (3 tbsp) capers, finely chopped
5 (20g) anchovies, finely chopped
10ml (2 tsp) lemon juice
125ml (½ cup) French-style mayonnaise
30ml (2 tbsp) apricot chutney
¼ (40g) medium red onion, finely chopped
2 (20g) gherkins, finely chopped
GREEK SALSA INGREDIENTS:
¼ (50g) large cucumber, finely chopped
5 (50g) cherry tomatoes, finely chopped
¼ (40g) medium red onion, finely chopped
30ml (2 tbsp) feta, finely chopped
30ml (2 tbsp) Kalamata olives, pitted and finely chopped
¼ (20g) medium green pepper, finely chopped
1 (150g) medium avocado, finely chopped
15ml (1 tbsp) lime juice
salt and pepper
CHIPS:
sunflower oil, for deep-frying
30ml (2 tbsp) medium curry spice
2 (250g) large potatoes
TO SERVE:
400g Pescanova crumbed formed strips
4 sesame burger buns, toasted
250ml (1 cup) cos lettuce, shredded
handful basil leaves, to garnish
8 lime wedges