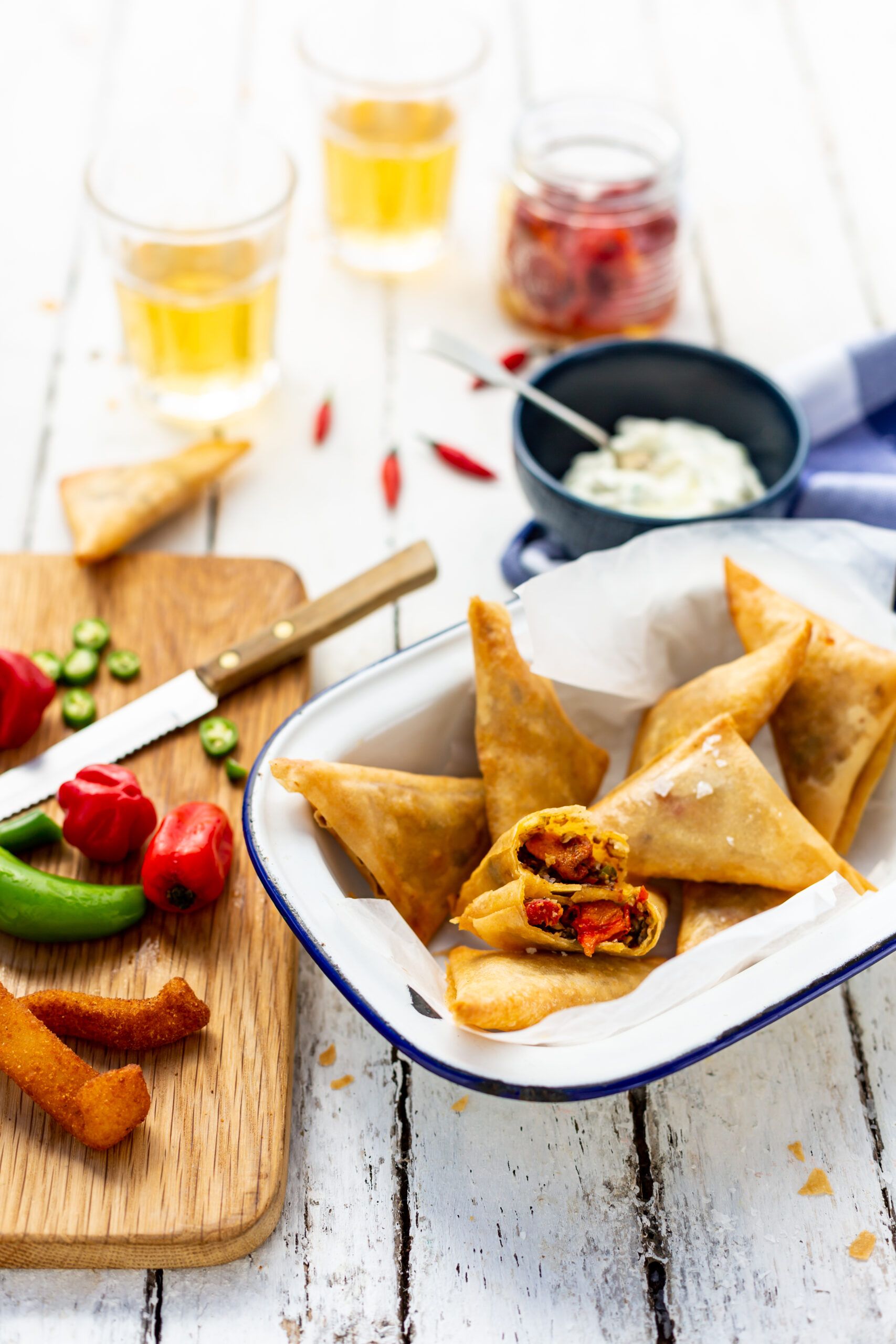 Fish recipes
Sundried Tomato and Chilli-Spiced Fish Samoosas with Coriander Tzatziki
No place is more diverse than South Africa and together we share a love of traditional food. These Mediterranean-inspired deep-fried samoosa pastries with a twist are filled with seafood, sundried tomatoes, olives, chillies, basil pesto and crumbled feta. It is served with a tangy and refreshing coriander tzatziki for dipping.
Recipe and image by: Umarie Reitsma
Wine pairing by: Chene Reader

30-60 min

Beginner
STEP-BY-STEP INSTRUCTIONS:
For the samoosas, heat the oil for deep-frying to 180°C.
Fry the strips until golden and crisp, 2-3 minutes. Cut into bite-size pieces.
Place the first sheet of samoosa pastry on a clean surface and cut into 3 equal strips. Brush each strip with the whisked eggs. Combine the olives, sundried tomatoes, feta, chillies, pesto and fish strips. Place 1 tablespoonful of the fish filling on one corner on the end of each of the pastry strips and fold the other corner of the pastry over the filling to form a triangle. Keep folding the triangle over the strip of pastry until you reach the end of the strip. Repeat with the rest of the pastry and filling to form 60 samoosas.
Deep-fry the samoosas, in batches, until golden and crisp, 2-3 minutes each. Drain on kitchen paper.
For the tzatziki, sprinkle the salt over the cucumber and set aside, 2 minutes. Rinse, strain and press out any excess liquid. Combine the cucumber with the remaining ingredients and season to taste.
Serve the samoosas warm with the tzatziki on the side.
TIP: Once the samoosas have been folded, they can be frozen for future use by arranging them in single layers, separated by sheets of baking paper, in a freezer-friendly container for up to 1 month.
Wine pairing: Pinotage Rosé, Stellenbosch region

Recipe for 1 persona
Ingredients:
SAMOOSAS INGREDIENTS:
sunflower oil, for deep-frying
400g Pescanova Tapas crumbed formed strips
20 (120g) sheets samoosa pastry
2 large eggs, whisked
500ml (2 cups) pitted black olives, chopped
500ml (2 cups) sundried tomatoes, chopped
250ml (1 cup) feta, crumbled
4 (12g) green chillies, seeded and finely chopped
125ml (½ cup / 125g) basil pesto
TZATZIKI INGREDIENTS:
5ml (1 tsp) salt
125ml (½ cup / 100g) cucumber, grated
250ml (1 cup / 240g) plain double cream yogurt
30ml (2 tbsp) coriander, finely chopped
15ml (1 tbsp) lemon juice