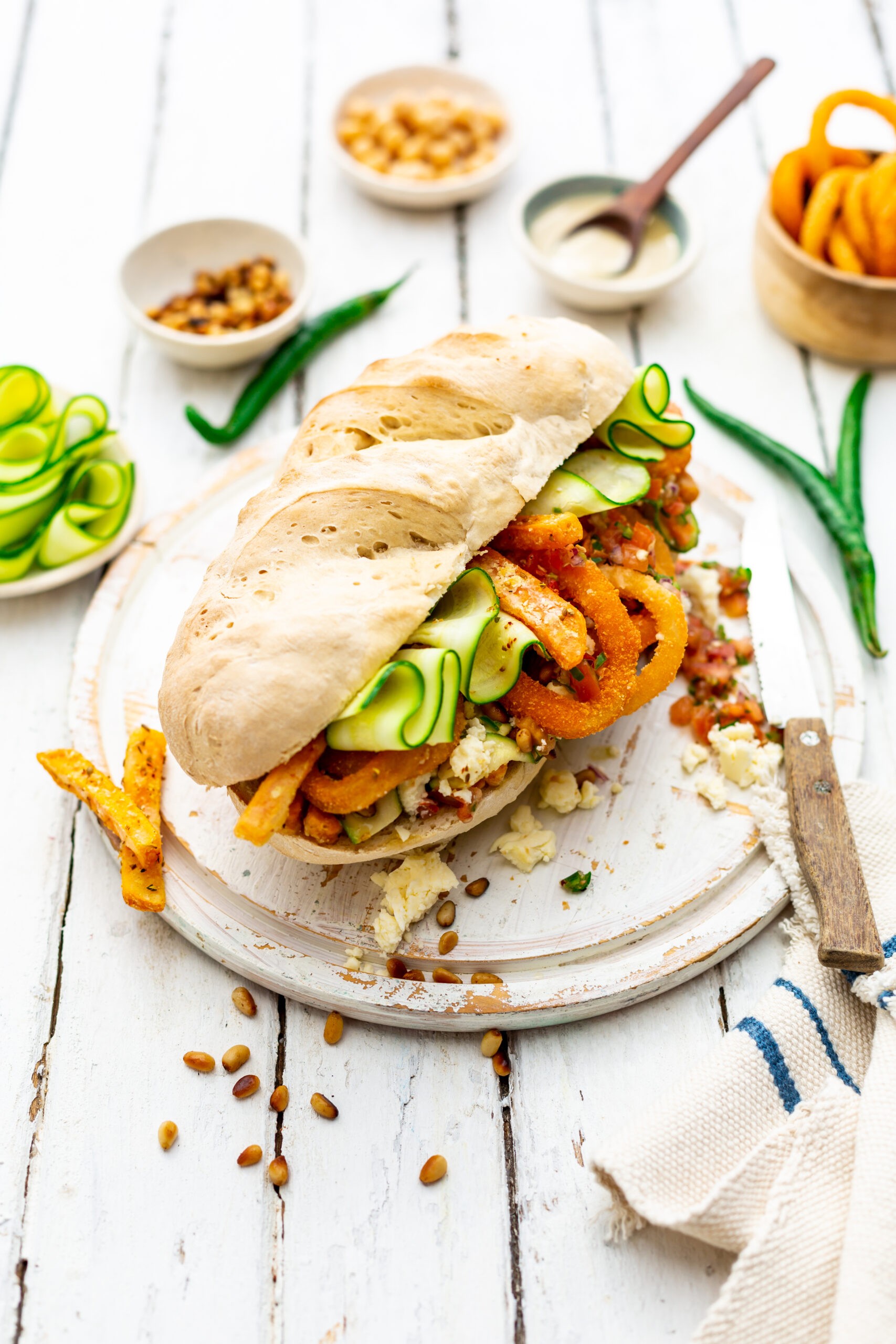 Seafood recipes
Mediterranean Fish Gatsby
A Mediterranean-inspired fish Gatsby with crisp crumbed seafood rings, curried apricots, tahini sauce, pickled zucchini, sweet potato fries, crumbled feta and chickpeas. This sandwich beautifully combines the flavour profiles of the diverse cultures from both the Mediterranean and South Africa. Serve it as a meal to share – perfect for lunch or dinner any day of the week!
Serves 4
Difficulty: Easy
Preparation time: 30 minutes
Cooking time: 35 minutes
Recipe and image by: Ruben Steyn
Wine pairing by: Cameron Bishop

30 min

Beginner
Pre-heat the oven to 200°C.
For the marinated zucchinis, peel the zucchinis, lengthwise, with a vegetable peeler into thin strips. Whisk the garlic, olive oil, lemon juice and Dijon mustard together. Add the zucchini strips to the mixture and season to taste. Refrigerate until needed.
For the chilli salsa, combine all of the ingredients and season lightly.
For the toppings, cut the sweet potatoes into 1cm thick chips. Arrange the chips on a baking tray and drizzle with the olive oil and curry spice. Bake until golden and crisp, 20 minutes.
Arrange the rings on a baking tray and bake, 12 minutes.
To serve, slice the baguettes open and spread the tahini sauce over the base of each. Layer the chips, marinated zucchini, chilli salsa, chickpeas, feta and pine nuts on top. Finish off with a layer of the rings and cut each Gatsby in half.
TIP: The baguettes can easily be replaced with ciabatta, if preferred, or mini baguettes can be used to make individual portions.
Wine pairing: Sauvignon Blanc, Overberg region

Recipe for 4 people
Ingredients:
MARINATED ZUCCHINI INGREDIENTS:
2 (50g) medium zucchinis
1 (4g) garlic clove, creamed
60ml (¼ cup) olive oil
30ml (2 tbsp) lemon juice
15ml (1 tbsp) Dijon mustard
salt and pepper
CHILLI SALSA INGREDIENTS:
2 (15g) large green chillies, finely chopped
1 (40g) medium tomato, finely chopped
30ml (2 tbsp) red onion, finely chopped
10ml (2 tsp) parsley, finely chopped
salt and pepper
TOPPINGS
2 (150g) orange sweet potatoes
30ml (2 tbsp) olive oil
20ml (4 tsp) Cape Malay curry spice
400g Pescanova breaded formed rings