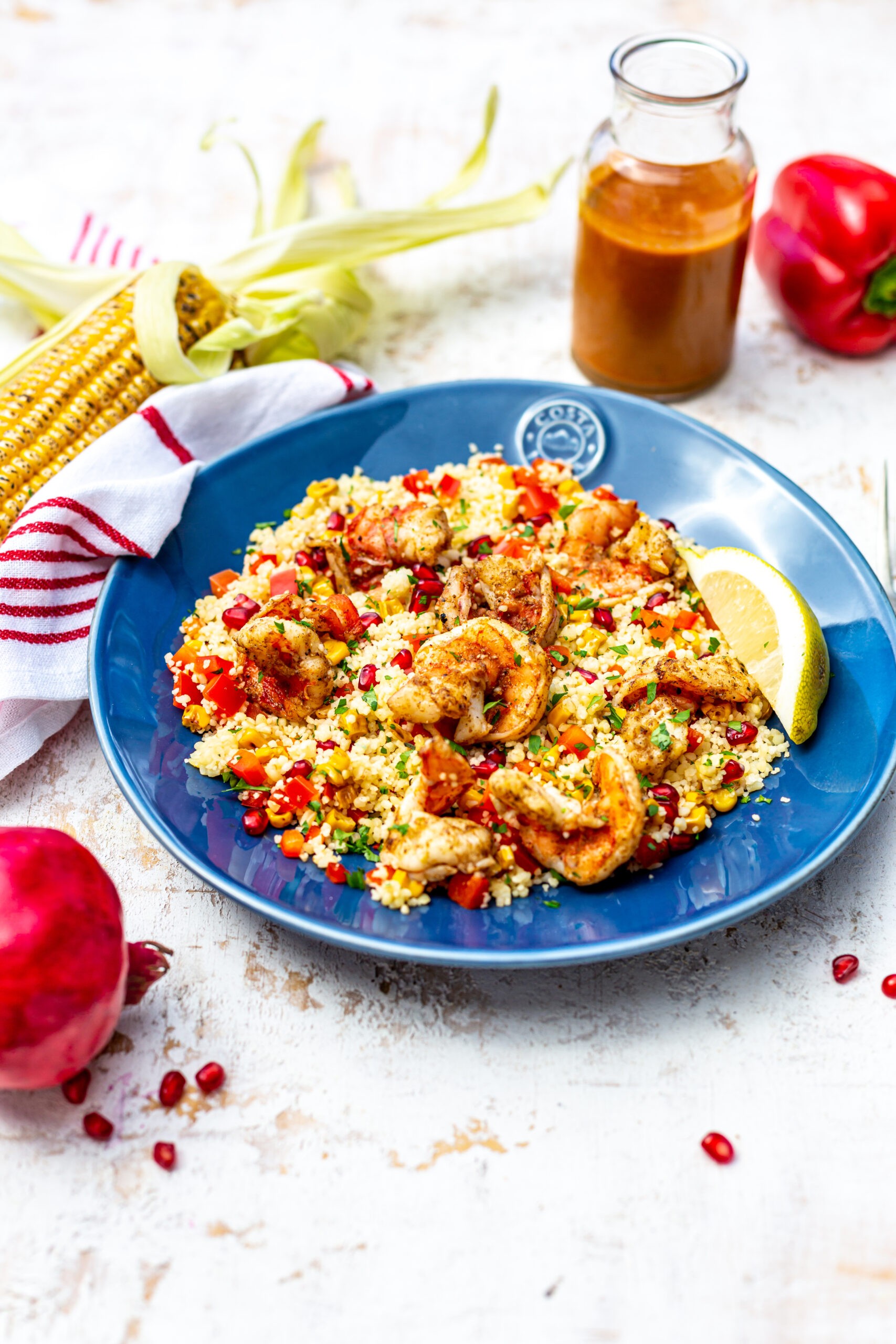 Seafood recipes
Coriander Prawn, Couscous and Pomegranate Salad
Prawns spiced with coriander and cumin served on a bed of bulgur wheat and couscous. Bright red sweet peppers and pomegranate rubies liven up this dish and the charred sweet corn adds a typical South African flavour to this deliciously filling Mediterranean salad.
Serves 3
Difficulty: A little effort
Preparation time: 20 minutes
Cooking time: 1 hour 30 minutes

1 hour 15 min

Intermediate
For the prawn bisque dressing, heat the oil in a pot over high heat; add the prawn heads, prawn shells and garlic and fry, 4 minutes. Add the tomato paste and fry, 3 minutes. Add the water and turn the heat down to low. Reduce, 1 hour. Stir in the lemon juice and cook, 20 minutes. Whisk in the cream.
For the prawns, combine the cumin, coriander, cayenne, salt and oil. Rub the marinade over the prawns and set aside, 5 minutes.  Heat a pan until hot and cook the prawns until firm and tender, 2 minutes per side.
For the couscous, combine the couscous, thyme and salt in a bowl. Add the boiling water and cover with a lid. Set aside, 5 minutes.
For the bulgur wheat, heat the oil in a pot over medium heat; add the bulgur wheat and toast, 1 minute. Add the lemon juice and water and boil until tender, 12 minutes.
For the salad, heat the oil in a pan over high heat; add the corn and fry until charred, 3-4 minutes.
Toss the couscous, bulgur wheat, corn, red pepper and pomegranate rubies together. Add the prawns and parsley on top and serve with the dressing and lemon wedges on the side.
TIP: For additional flavour, add any fish heads or bones to the broth when making the prawn bisque dressing.
Wine pairing: Grenache Blanc, Paardeberg Paarl region
Recipe by: Grant-Lee Hicks
Image by: Nické Spies
Wine pairing by: Cameron Bishop

Recipe for 3 people
Ingredients:
PRAWN BISQUE DRESSING INGREDIENTS:
20ml (4 tsp) olive oil
250ml (1 cup / 210g) prawn heads and shells
125ml (½ cup / 120g) tomato paste
500ml (2 cups) water
3 (12g) garlic cloves
60ml (¼ cup) lemon juice
30ml (2 tbsp) cream
PRAWNS INGREDIENTS:
10ml (2 tsp) ground cumin
7.5ml (1½ tsp) ground coriander
7.5ml (1½ tsp) cayenne pepper
10ml (2 tsp) salt
15ml (1 tbsp) olive oil
200g Pescanova Mozambique tiger prawns
COUSCOUS INGREDIENTS:
250ml (1 cup / 250g) couscous
20ml (4 tsp) thyme leaves
15ml (1 tbsp) salt
250ml (1 cup) water, boiling
BULGUR WHEAT INGREDIENTS:
15ml (1 tbsp) olive oil
160ml (⅔ cup) bulgur wheat
10ml (2 tsp) lemon juice
160ml (⅔ cup) water
SALAD INGREDIENTS:
20ml (4 tsp) olive oil
125ml (½ cup / 125g) fresh corn kernels
80ml (⅓ cup / 80g) red pepper, finely chopped
45ml (3 tbsp) pomegranate rubies
30ml (2 tbsp) parsley, finely chopped
3 lemon wedges,