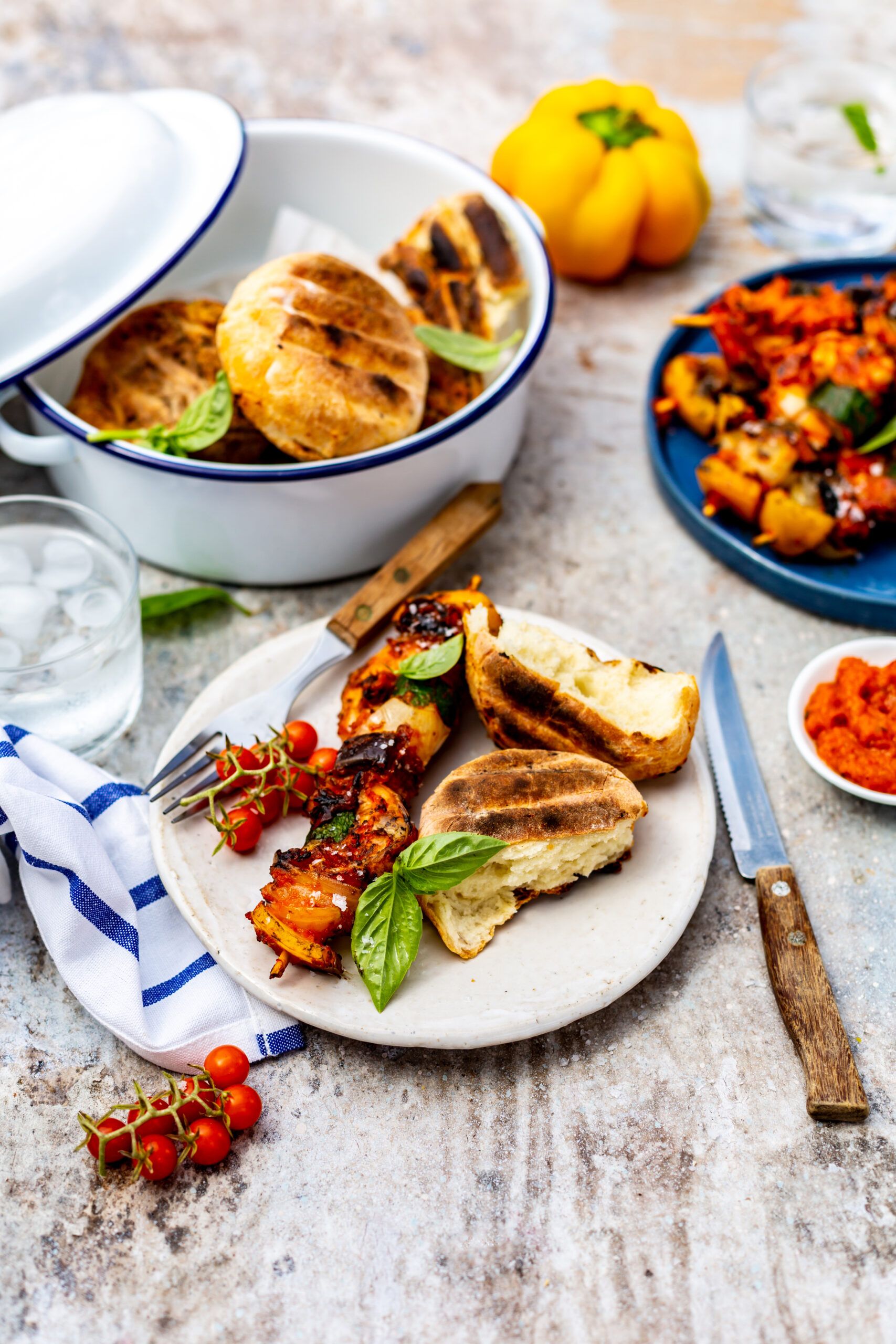 Seafood recipes
Sundried Tomato-Marinated Prawn and Roasted Vegetable Skewers
Bright and colourful, these prawn and vegetable skewers will spruce up any braai! A variety of vegetables are sautéed and combined with blanched prawns, then left to marinate in a flavourful sundried tomato sauce. Cooking these skewers on a braai gives the prawns and vegetables a distinct charred flavour – perfect for an al fresco meal with family and friends.
Recipe by: Jessica Hale
Image by: Juwan Beyers
Wine pairing by: Siphokazi Mayaphi

1-2 hours

Beginner
For the marinade, heat the oil in a pan over medium heat. Add the onions and sauté until translucent, 5 minutes. Add the garlic, red pepper, sundried tomatoes, tomato paste, salt and paprika and cook, 20 minutes. Remove from the heat and stir in the lemon zest, juice and thyme. Blend until smooth, 5 minutes.
For the skewers, soak 12 wooden skewers in water until needed.
Remove the heads and shells of the tails from each prawn and make a shallow cut down the tail and devein. Rinse.
Bring a pot of water to the boil and boil the prawns, 5 minutes. Refresh in ice water.
Heat the oil in a pan over medium heat and sauté the prepared onions, courgettes and aubergine individually, 5 minutes each.
To assemble the skewers, alternate 2 prawns and 2 pieces of each vegetable onto the skewers. Cover the skewers with the marinade and refrigerate, 15 minutes.
Pre-heat the oven to 180°C. Arrange the skewers on a baking tray and roast, 15 minutes.
To serve, scatter some basil leaves over the skewers and serve with toasted roosterkoek on the side.
TIP: Alternatively, the skewers can be cooked on the braai over medium coals for 8-10 minutes while turning regularly.
Wine pairing: Pinot Noir, Stellenbosch region

Recipe for 6 people
Ingredients:
MARINADE INGREDIENTS:
30ml (2 tbsp) olive oil
250ml (1 cup / 130g) onion, diced
30ml (2 tbsp) garlic, finely chopped
330ml (1⅓ cup / 215g) red pepper, finely chopped
75g sundried tomatoes in oil, finely chopped
30ml (2 tbsp / 40g) tomato paste
12,5ml (2½ tsp) salt
5ml (1 tsp) smoked paprika
25ml (5 tsp) lemon zest
60ml (¼ cup) lemon juice
25ml (5 tsp) thyme leaves
SKEWERS INGREDIENTS:
24 Pescanova Mozambique banana prawns
30ml (2 tbsp) olive oil
100g baby onions, quartered
450g courgettes, cut into 1cm rounds
450g aubergine, diced 1cm x 1cm
300g yellow pepper, diced 1cm x 1cm
TO SERVE:
handful basil leaves
6 roosterkoek, toasted