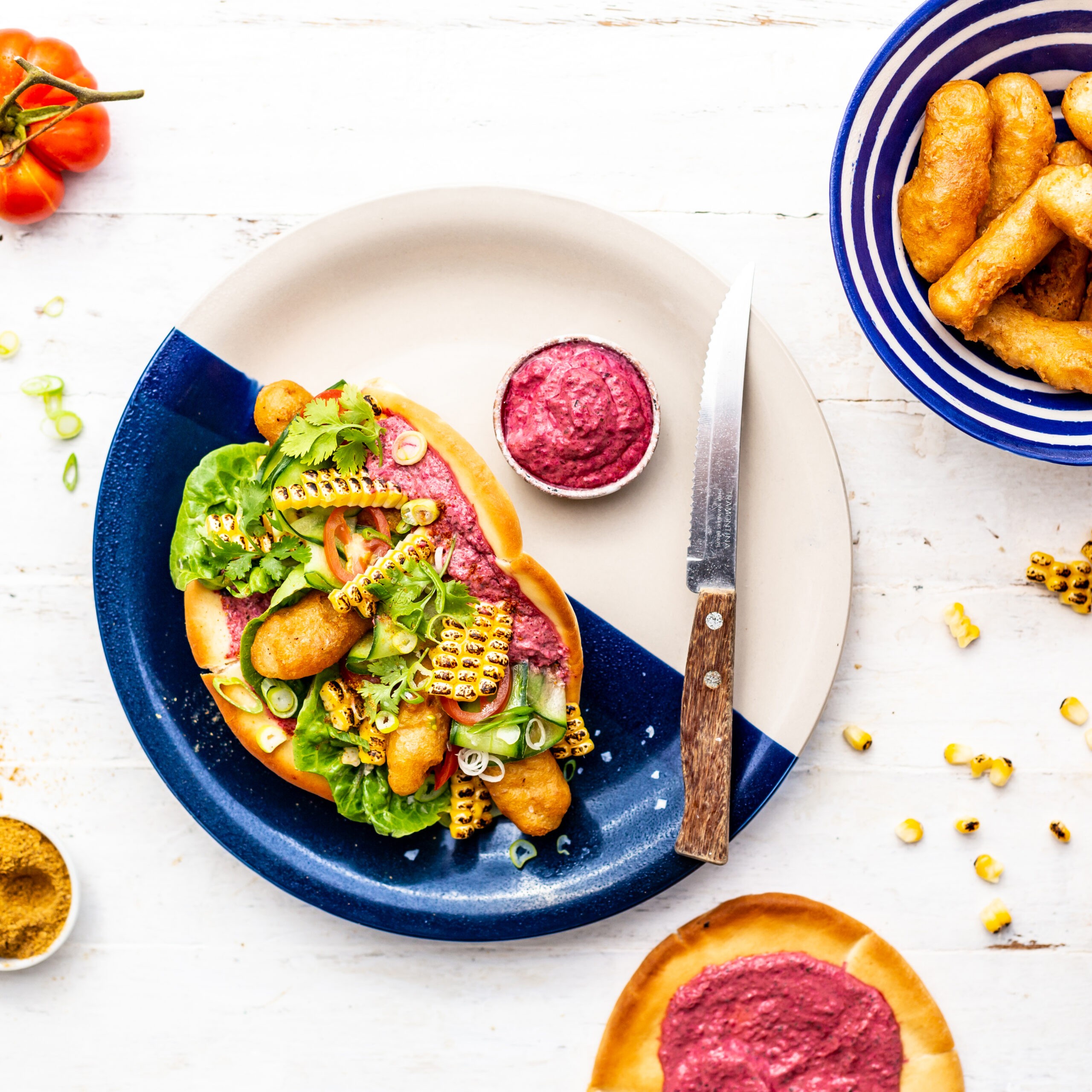 Seafood recipes
Mediterranean Fish Gyro With Creamy Chakalaka-Spiced Beetroot Sauce
These Greek-inspired seafood pita sandwiches are simple and easy to make but packed with so much flavour! A filling of crispy crumbed fried seafood, Mediterranean salad ingredients and a chakalaka-spiced beetroot sauce is folded up in a tender baked pita. The chakalaka adds a unique South African twist to this typical Greek street food item.
Serves 4
Difficulty: Easy
Preparation time: 20 minutes
Cooking time: 40 minutes
Recipe and image by: Liebe de Klerk
Wine pairing by: Siphokazi Mayaphi

20 min

Principiante
Pre-heat the oven to 200°C.
For the sauce, combine all of the ingredients and blend until smooth, 2 minutes. Season to taste.
For the gyro, heat a griddle pan over high heat until smoking hot.  Drizzle the olive oil over the sweetcorn cobs and griddle until charred, 2 minutes per side. Place on a baking tray and roast in the oven until tender, 15 – 20 minutes.  Remove the corn kernels from the cob.
Place the pita breads on an oven tray and bake until golden but still pliable, 2-3 minutes.
Heat the oil for deep-frying to 180°C and fry the croquettes until golden and crisp, 5 minutes. Drain on kitchen paper.
Spoon some sauce over each toasted pita and top one half with the croquettes, corn, tomatoes, cucumber, cos lettuce, spring onions and coriander. Fold the pita over to encase the filling and repeat with the rest.
TIP: For packed lunches and eating on the go, the pitas can be toasted in a toaster until warm, 1 minute, and filled on the inside of the pocket instead.
Wine pairing: Semillon, Constantia region

Recipe for 4 people
Ingredients:
SAUCE INGREDIENTS:
180ml (¾ cup / 230g) plain yoghurt
80ml (⅓ cup / 80g) beetroot, grated
30ml (2 tbsp / 30g) cucumber, diced
45ml (3 tbsp) coriander, chopped
5ml (1 tsp) lemon juice
5ml (1 tsp) curry powder
1.25ml (¼ tsp) ground ginger
1.25ml (¼ tsp) smoked paprika
1.25ml (¼ tsp) garlic powder
salt and pepper
GYRO INGREDIENTS:
30ml (2 tbsp) olive oil
2 (200g) sweetcorn cobs
4 pita breads
sunflower oil for deep-frying
300g Pescanova Tapas croquettes, frozen
60ml (¼ cup / 50g) cocktail tomatoes, sliced
125ml (½ cup / 100g) cucumber, peeled into ribbons
125ml (½ cup / 90g) cos lettuce, chopped
60ml (¼ cup / 40g) spring onions, thinly sliced
60ml (¼ cup / 45g) coriander, chopped