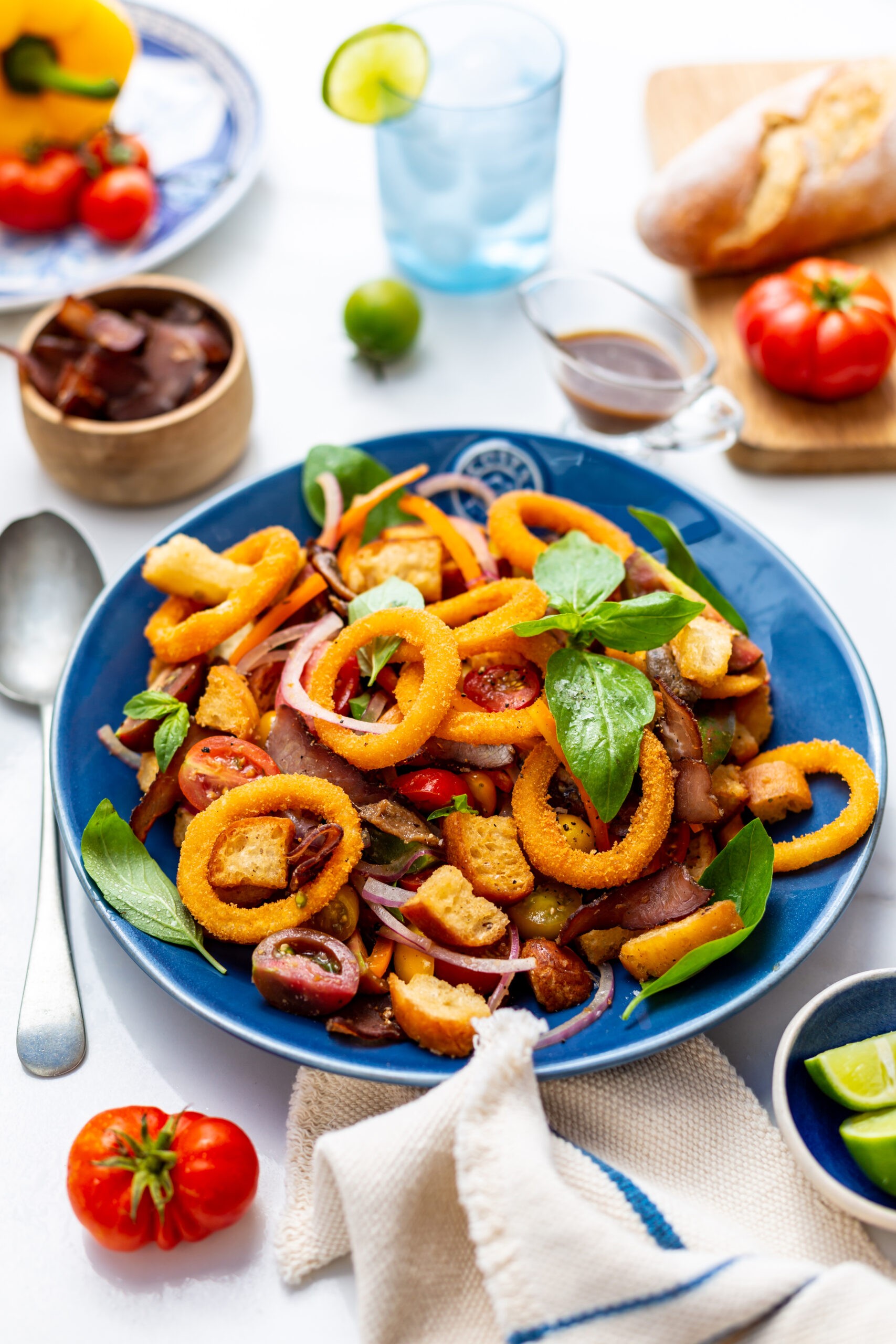 Seafood recipes
Seafood and Biltong Panzanella Salad
Panzanella salad made its first appearance in Italy around the 15th century as a peasant dish and consisted mainly of onions during that time – the creator, an artist, was obsessed with onions dressed in vinegar and oil on toast. It was only later, in the 20th century that the onions made way for the much-loved tomato that lead to the classic bread and tomato salad we know today. It was generally made with stale bread that was soaked in water and then squeezed dry. However, today this salad has evolved so much that it can contain a variety of ingredients ranging from lettuce, olives, mozzarella, capers and anchovies to tuna and boiled eggs. This classic Tuscan salad is given a unique spin with biltong as well as the addition of crispy fried fish rings – making this salad a complete hearty meal on its own.
Serves 8
Difficulty: Easy
Preparation time: 30 minutes
Cooking time: 15 minutes
Recipe and image by: Johanka Booysen
Wine pairing by: Daniel de Vos

15 min

Beginner
Pre-heat the oven to 180°C.
For the caper dressing, whisk all of the ingredients together and season lightly.
For the salad, drizzle the cubed ciabatta pieces with the olive oil, season with the salt and pepper and place on a baking tray.  Bake until golden and crisp, 10 minutes. Turn the tray half way through the baking process to ensure even cooking of the croutons.
Heat the oil for deep-frying to 180°C. Fry the Pescanova Tapas breaded rings until golden and crisp, 1 minute.
Assemble the salad by combining the toasted bread with the tomatoes, red onions, peppers, basil, biltong and anchovies. Toss the salad with the dressing and add the breaded rings.
TIP: This is a great recipe for using up stale ciabatta or sourdough bread, as it is the perfect texture to make toasted croutons with.
Wine pairing: Sauvignon Blanc, Stellenbosch region

Recipe for 8 people
Ingredients:
CAPER DRESSING INGREDIENTS:
30ml (2 tbsp) olive oil
10ml (2 tsp) balsamic vinegar
5ml (1 tsp) honey
2.5ml (½ tsp) Dijon mustard
2.5ml (½ tsp) dried oreganum
1 (4g) clove garlic, creamed
15ml (1 tbsp) capers, finely chopped
salt and pepper
SALAD INGREDIENTS:
1 (200g) ciabatta, cubed
15ml (1 tbsp) olive oil
salt and pepper
sunflower oil, for deep-frying
400g Pescanova Tapas breaded rings, frozen
500ml (2 cups / 400g) exotic mix tomatoes, halved
1 (160g) medium red onion, julienned
1 (70g) yellow pepper, julienned
250ml (1 cup / 100g) basil
100g beef biltong, thinly sliced
15ml (1 tbsp) anchovy fillets, thinly sliced