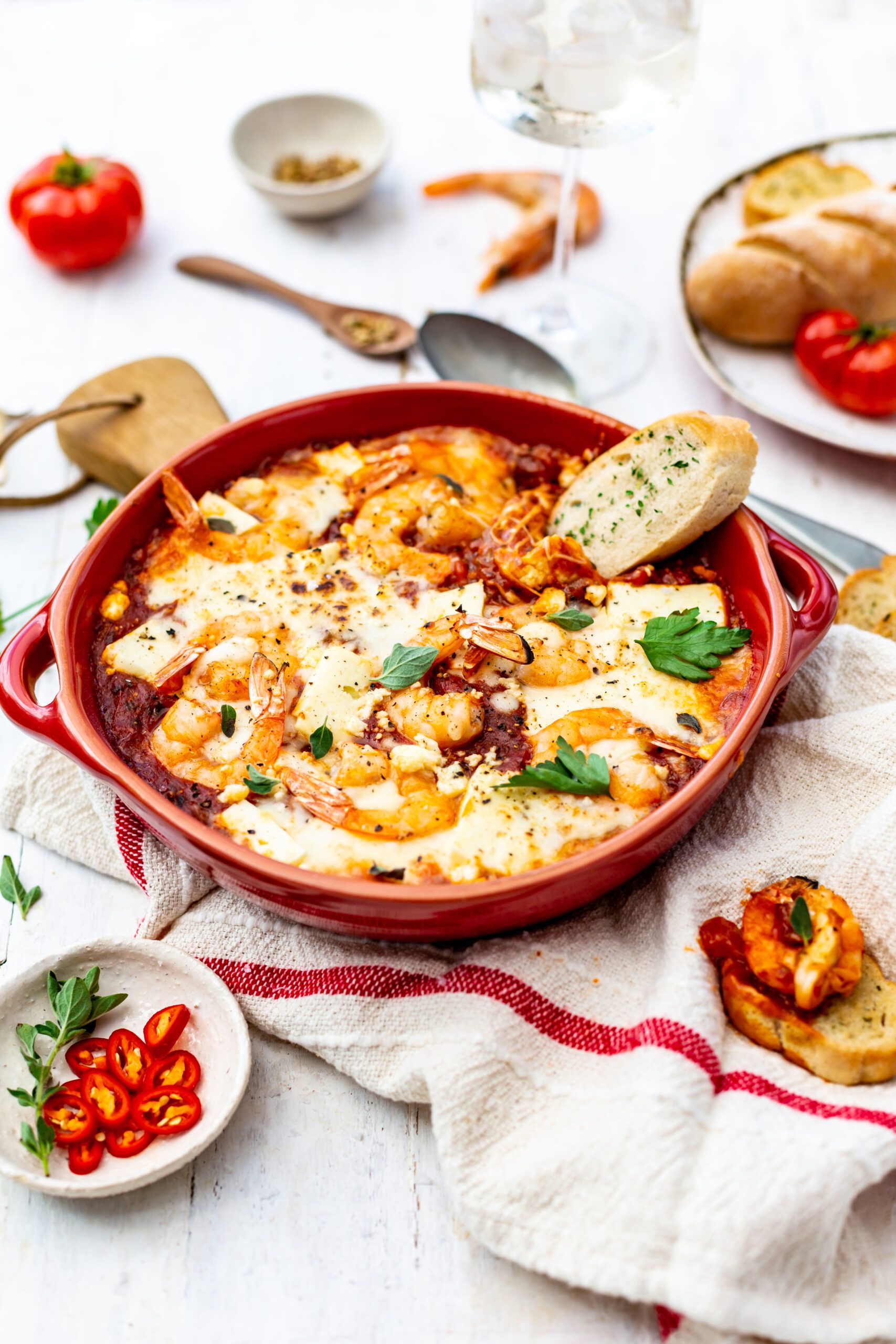 Seafood recipes
Pescanova Saganaki-Style Prawn and Croûte
Saganaki – a popular classic Greek entrée or main course that got its name from a two-handled frying pan, is transformed into an entertaining-style meal perfect for sharing! The prawns are cooked in a rich and flavoursome tomato sauce, then topped with creamy feta and mozzarella cheese and oven baked until golden and bubbly. Plenty of crusty bread is the perfect dipping partner for this delicious Mediterranean prawn dish.
Recipe by: Marlie Louw
Image by: Johanka Booysen
Wine pairing by: Chene Reader

30-60 min

Beginner
Pre-heat the oven to 180°C.
For the saganaki prawns, heat the oil in a large pan over medium heat. Add the onions and sauté until soft, 5 minutes. Add the garlic, jalapeños, chili flakes, paprika, coriander, ground fennel and fennel seeds. Season with salt and pepper and cook, 5 minutes.
Add the tomato paste and cook, 30 seconds. Pour in the stock and cook, 2 minutes. Stir in the tinned tomatoes. Combine the cornflour and water and stir into the sauce. Boil, 5 minutes.
Add the prawns, turn the heat down to low and simmer, 5 minutes. Stir in the sugar, parsley and organum. Spoon the mixture into a medium-sized oven dish. Top with the feta and mozzarella and bake, 10 minutes.
To serve, sprinkle the parsley over the dish and serve with the toasted bread on the side.
TIP: As an alternative, the toasted bread slices can be replaced with rice to turn this starter into a main meal.
Wine pairing: Pinot Noir, Elgin region

Recipe for 6 people
Ingredients:
330g Pescanova 40/50 Vannamei prawns, deveined
45ml (3 tbsp) olive oil
½ (80g) medium onion, finely chopped
2 (8g) cloves garlic, finely chopped
1.5 (12g) red jalapeños, deseeded and finely chopped
2.5ml (½ tsp) chilli flakes
2.5ml (½ tsp) smoked paprika
5ml (1 tsp) ground coriander
5ml (1 tsp) ground fennel
2.5ml (½ tsp) fennel seeds
salt and pepper, to season
10ml (2 tsp) tomato paste
125ml (½ cup) fish stock
1 (410g) tin diced tomatoes
25ml (5 tsp) cornflour
45ml (3 tbsp) water
7.5ml (1½ tsp) sugar
60ml (¼ cup) parsley, finely chopped
60ml (¼ cup) origanum, finely chopped
70g feta, crumbled
70g mozzarella, grated
TO SERVE:
Handful parsley leaves
Toasted baguette or ciabatta slices