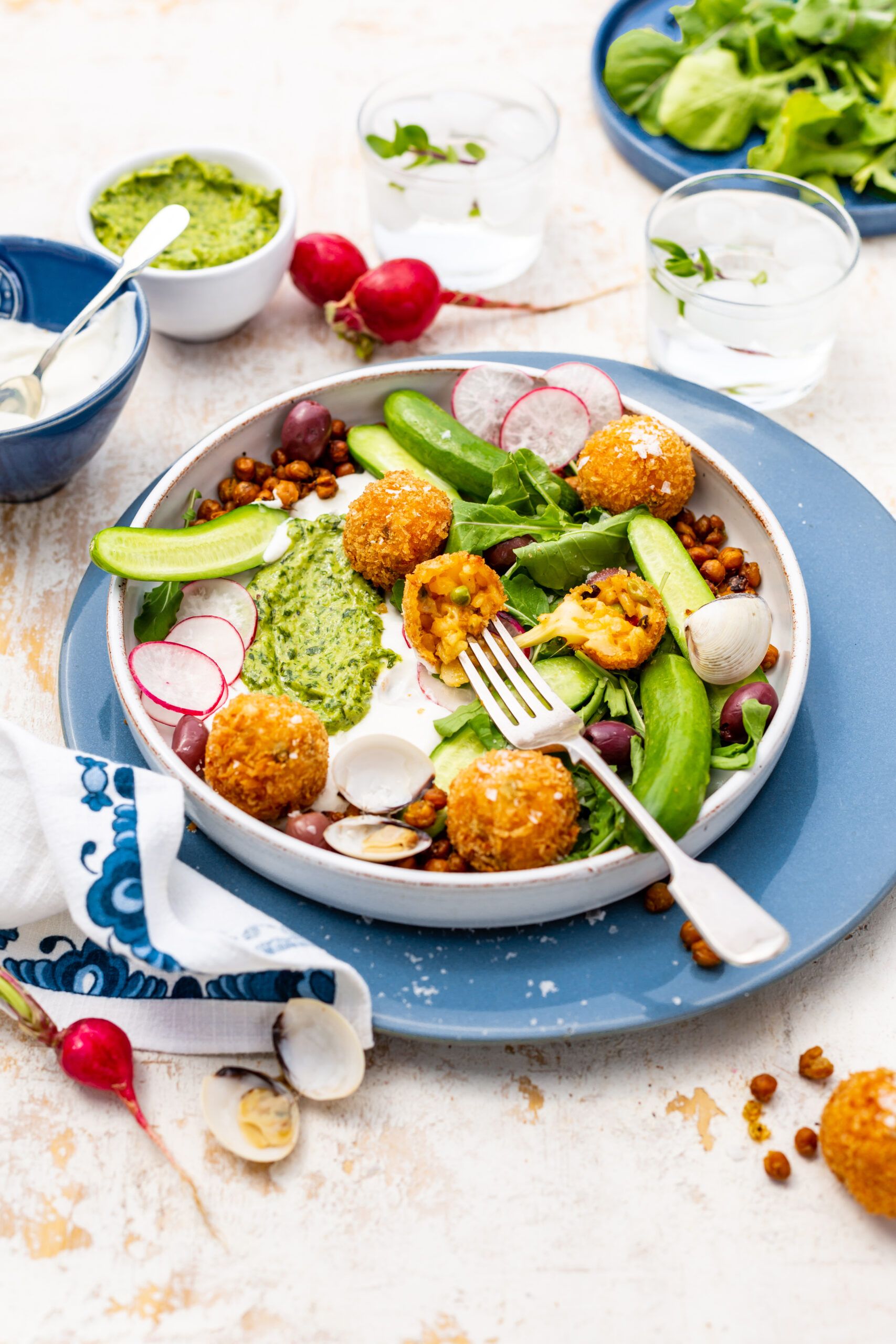 Seafood recipes
Pescanova Seafood Paella Arancini Salad with Spekboom Pesto
Crispy seafood arancini bursting with Mediterranean flavour!  These rice and fish fritters are crumbed and deep-fried and have a melted hidden mozzarella centre. They are served as a salad with added chickpeas, cucumbers, radishes and olives with a local Spekboom pesto for dipping – perfect as a lunch, starter or individual canapés when entertaining.
Recipe and image by: Juwan Beyers
Wine pairing by: Siphokazi Mayaphi

1-2 hours

Beginner
For the arancini, remove all the shells from the paella mix. Cut all seafood into 1cm x 1cm pieces. Repeat with the remaining vegetables in the paella mix.
Heat the olive oil in a large pot over medium heat. Add the onions and garlic and sauté, 5 minutes. Add the rice and sauté, 3 minutes.  Pour in the wine and cook, 1 minute.  Add the stock, a ladleful at a time, and stir until all of the stock has been absorbed before adding the next ladleful. Combine the boiling water with the packet of seafood broth provided in the paella mix. Add half of the broth to the risotto mixture and stir until absorbed. Add the prepared paella mixture that have been chopped together with the remaining broth and stir until the liquid has been absorbed, 5 minutes. Remove the mixture from the heat and stir in the butter and Parmesan cheese. Season lightly and set aside until cool, 20 minutes.
Cut the mozzarella into 24 small squares that are 2cm x 2cm in size. Form the risotto mixture into 24 balls and push a mozzarella square into the center of each; before rolling it into a smooth ball again. Dip each of the balls into the flour, shake off the excess and then dip it into the whisked eggs and lastly into the panko crumbs to coat evenly.
Heat the oil for deep-frying to 180°C and fry until golden, 5 minutes. Drain on kitchen paper.
For the crispy chickpeas, pre-heat the oven to 180°C. Toss the chickpeas with the olive oil and curry powder and roast until golden, 40 minutes.
For the pesto, add all of the ingredients to a food processor and blend until smooth, 2 minutes. Season to taste.
To serve, add dollops of the labneh and Spekboom pesto to each serving plate. Arrange the cucumbers, olives, rocket and radishes on top. Add 6 arancini balls to each salad and sprinkle the chickpeas on top.
TIP: Spekboom can be found at selected supermarkets and nurseries. If unavailable, simply replace with more basil or rocket.
Wine pairing: Albarino, Robertson region

Recipe for 4 people
Ingredients:
ARANCINI INGREDIENTS:
400g Pescanova Seafood Paella Mix, defrosted
15ml (1 tbsp) olive oil
1 (125g) medium onion, diced
2 (8g) garlic cloves, minced
375ml (1½ cup / 220g) Arborio rice
180ml (¾ cup) dry white wine
500ml (2 cups) chicken stock
250ml (1 cup) boiling water
25ml (5 tsp / 25g) butter
30ml (2 tbsp) Parmesan cheese, finely grated
salt and pepper
125g mozzarella
125ml (½ cup / 62g) cake flour
2 large eggs, whisked
250ml (1 cup / 100g) panko crumbs
sunflower oil, for deep-frying
CRISPY CHICKPEAS INGREDIENTS:
1 (400g) tin chickpeas, drained
15ml (1 tbsp) olive oil
10ml (2 tsp) Cape Malay curry powder
SPEKBOOM PESTO INGREDIENTS:
125ml (½ cup / 100g) Spekboom leaves
80ml (⅓ cup / 25g) basil
60ml (¼ cup / 10g) chives
125ml (½ cup) olive oil
10ml (2 tsp) Dijon mustard
30ml (2 tbsp) Parmesan cheese, finely grated
salt and pepper
TO SERVE:
250ml (1 cup / 160g) labneh
8 (110g) mini cucumbers, halved
125ml (½ cup / 180g) kalamata olives, pitted
500ml (2 cups / 100g) rocket
4 (60g) radishes, thinly sliced