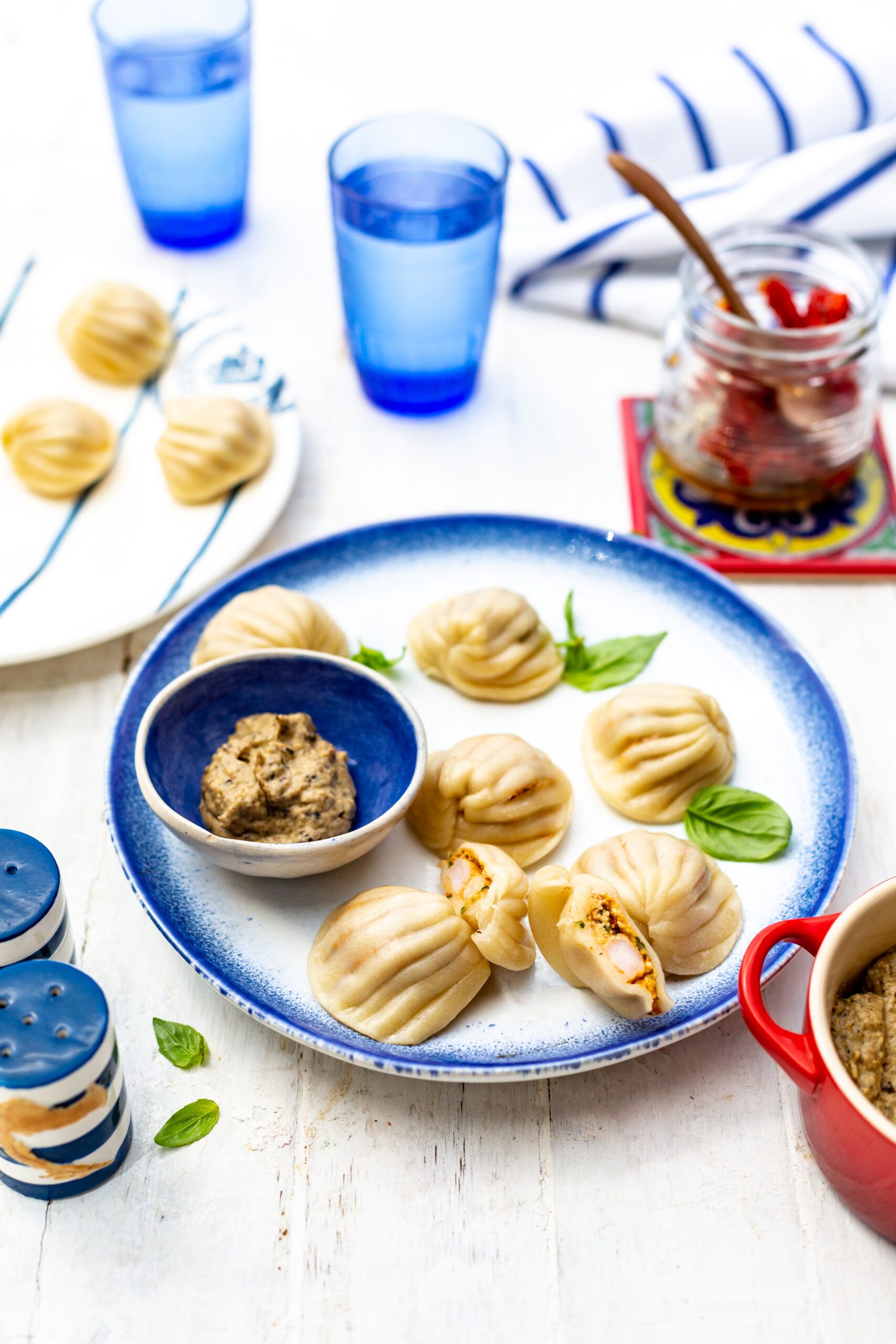 Seafood recipes
Prawn Pockets with Flamed Aubergine Dip
Legend tells us that the origin of dumplings with a crispy bottom was accidently created by a chef who left it on the stove for too long. Taking inspiration from this 'accident', these clam-shaped Mediterranean-inspired pockets are filled with a delicious sundried tomato, basil, ricotta and prawn filling which is then steamed and pan-fried to form the crispy base. The perfect dip for theses prawn pockets is created by firing the aubergine directly over an open flame until the skin cracks – leaving the best tasting, smoky and truly rustic celebration of the whole fruit.
Recipe by: NJ van Jaarsveld
Image by: Umarie Reitsma
Wine pairing by: Lizamarie van Niekerk

1-2 hours

Beginner
For the dough, sieve the flour and salt together. Heat the water to 80°C and add to the flour mixture. Mix to form a dough. Knead until smooth and elastic, 15 minutes. Form into a ball, wrap and rest at room temperature, 30 minutes.
For the filling, add the basil, ricotta, sundried tomatoes, macadamia nuts and salt to a food processor and process until fine, 2 minutes. Refrigerate until needed.
Cut the rested dough ball into quarters. Roll each quarter of dough out into a sheet with a thickness of 2mm. Use a round cutter, with a diameter of 8.5cm, to cut out 60 discs of dough. Using a fork, make indents on one half of the disc. Turn the disc 180 degrees so that the indents are facing away from you.
Lightly pinch the centre of each disc inwards to form an hourglass shape and place 5ml of the filling and 1 prawn on the opposite side of the indent. Wet the edge of the disc and fold the indent side over the filling. Pinch the edges together to seal. Take both ends of the filled pocket backwards and press together.
Heat the olive oil in a large pan; fry the base of each pocket until golden, 2 minutes.
Transfer the pockets to a bamboo steamer set over a pot with 3cm of water. Bring the water to a simmer, cover, and steam, 11 minutes. Cook the pockets in 2 or 3 batches, depending on the steamer size.
For the aubergine dip, grill the aubergine on an open flame until charred and tender, 20 minutes. Spoon out the flesh and discard the skin and burnt edges. Add the aubergine, cream cheese and garlic to a food processor and blend, 2 minutes. Season to taste.
Serve the steamed pockets with the aubergine dip and scatter some basil leaves on top.
TIP: The uncooked pockets can be frozen in single layers lined with baking paper in an airtight container for up to 1 month. Steam from frozen.
TIP: Alternatively, a pasta machine can be used to easily roll out the dough to the desired thickness.
Wine pairing: Bukettraube, Darling region

Recipe for 1 persona
Ingredients:
DOUGH INGREDIENTS:
1000ml (4 cups / 500g) cake flour
5g salt
250ml (1 cup) wate
FILLING INGREDIENTS:
125ml (½ cup) basil leaves
180ml (¾ cup) ricotta
125ml (½ cup) sundried tomatoes
125ml (½ cup) macadamia nuts
10g salt
450g Pescanova Vannamei blanched prawns, defrosted
45ml (3 tbsp) olive oil
AUBERGINE DIP INGREDIENTS:
600g aubergine
250ml (1 cup / 250g) cream cheese, room temperature
30ml (2 tbsp) garlic, finely chopped
salt and pepper
TO SERVE:
handful basil leaves