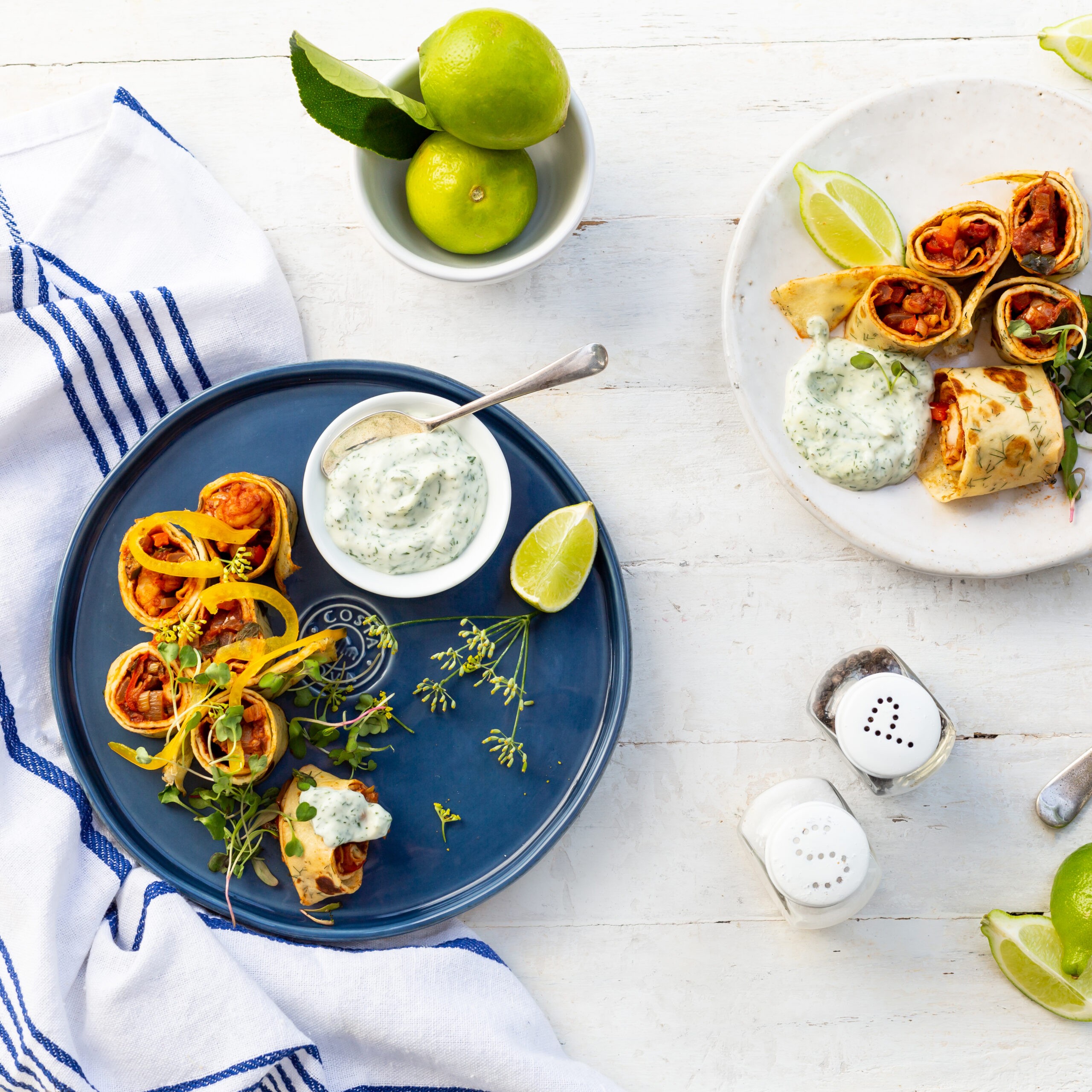 Seafood recipes
Mediterranean Prawn Filled Potato Pancake with Fennel Sauce
Light and flavoursome, this prawn filled gluten-free potato pancake and elegant fennel sauce will become an anytime favourite meal.
Serves 4
Difficulty: EASY
Preparation time: 30 minutes
Cooking time: 30 minutes
RECIPE BY: JANA VAN RENSBURG
IMAGE STYLING BY: UNATI TAFFA

30 min

Beginner
For the gluten-free potato pancakes, first prepare the mashed potato. In a medium saucepan over high heat, cover the potatoes with water and cook for 15 minutes or until soft. Drain the water and pass the potato through a drum sieve. Set mashed potato aside to cool. In a medium mixing bowl, sieve the gluten-free flour and salt together.  Beat the eggs, milk, water, and lemon juice together.  Add the flour mixture and mix thoroughly.  Add the oil, mashed potato and fennel and mix thoroughly. Put the mixture aside and rest for 30 minutes.
To cook the gluten-free potato pancakes, in an 18 cm diameter crepe pan, over medium heat, ladle 83ml (⅓ cup) of batter into the pan and cook for 1 minute per side. Use all the batter to make 4 pancakes.
For the Mediterranean prawn filling, in a medium mixing bowl add the prawns, paprika, cumin and oregano. Mix well to coat the prawns with the spices. In a medium saucepan over medium add the vegetable oil and sauté the onions for 2 minutes. Add the garlic, sliced leeks and yellow peppers and sauté for 3 minutes. Add the prawn mixture and tomatoes. Simmer for 5 minutes. Add the salt, pepper, lemon juice and capers. Remove from the heat and set aside to cool slightly.
For the fennel sauce, in a medium mixing bowl, add all the ingredients and mix until well combined.
To serve, divide the prawn filling amongst the 4 pancakes, dishing it down the middle of each pancake. Fold the sides of the pancake toward the middle and drizzle generously with fennel sauce. Top with sweet yellow pepper julienne and a few sprigs of fresh fennel.
TIP: A time-saving tip: add all the ingredients for the gluten-free pancakes in a jug and using a stick blender, blend for 2 minutes or until smooth.

Recipe for 4 people
Ingredients:
PANCAKE INGREDIENTS:
1 small (50g) potato, peeled and diced
83ml (⅓ cup / 50g) gluten-free flour
2.5ml (½ tsp) salt
3 eggs, whole
187.5ml (¾ cup) milk
83ml (⅓ cup) water
5ml (1 tsp) lemon juice
15ml (1 tbsp) vegetable oil
2.5ml (½ tsp) fresh fennel, finely chopped
MEDITERRANEAN PRAWN FILLING INGREDIENTS:
8 (120g) Pescanova Vannamei butterfly prawn meat, roughly chopped
5ml (1 tsp) ground paprika
2.5ml (½ tsp) ground cumin
5ml (1 tsp) ground oregano
15ml (1 tbsp) vegetable oil
1 small onion (250ml / 1 cup) onion, finely diced
2 (8g) cloves garlic, minced
125ml (½ cup / 60g) leeks
125ml (½ cup / 60g) sweet yellow pepper
180g tinned tomatoes
2.5ml (½ tsp) salt
2.5ml (½ tsp) black pepper
10ml (2 tsp) lemon juice
30ml (2 tbsp) capers
FENNEL DIP INGREDIENTS:
83ml (⅓ cup / 100g) plain Greek-style yogurt
5ml (1 tsp) salt
1 (4g) clove garlic, creamed
20ml (4 tsp) fresh fennel, finely chopped
TO SERVE:
1/2 sweet yellow pepper, julienne
2 sprigs fresh fennel, roughly chopped