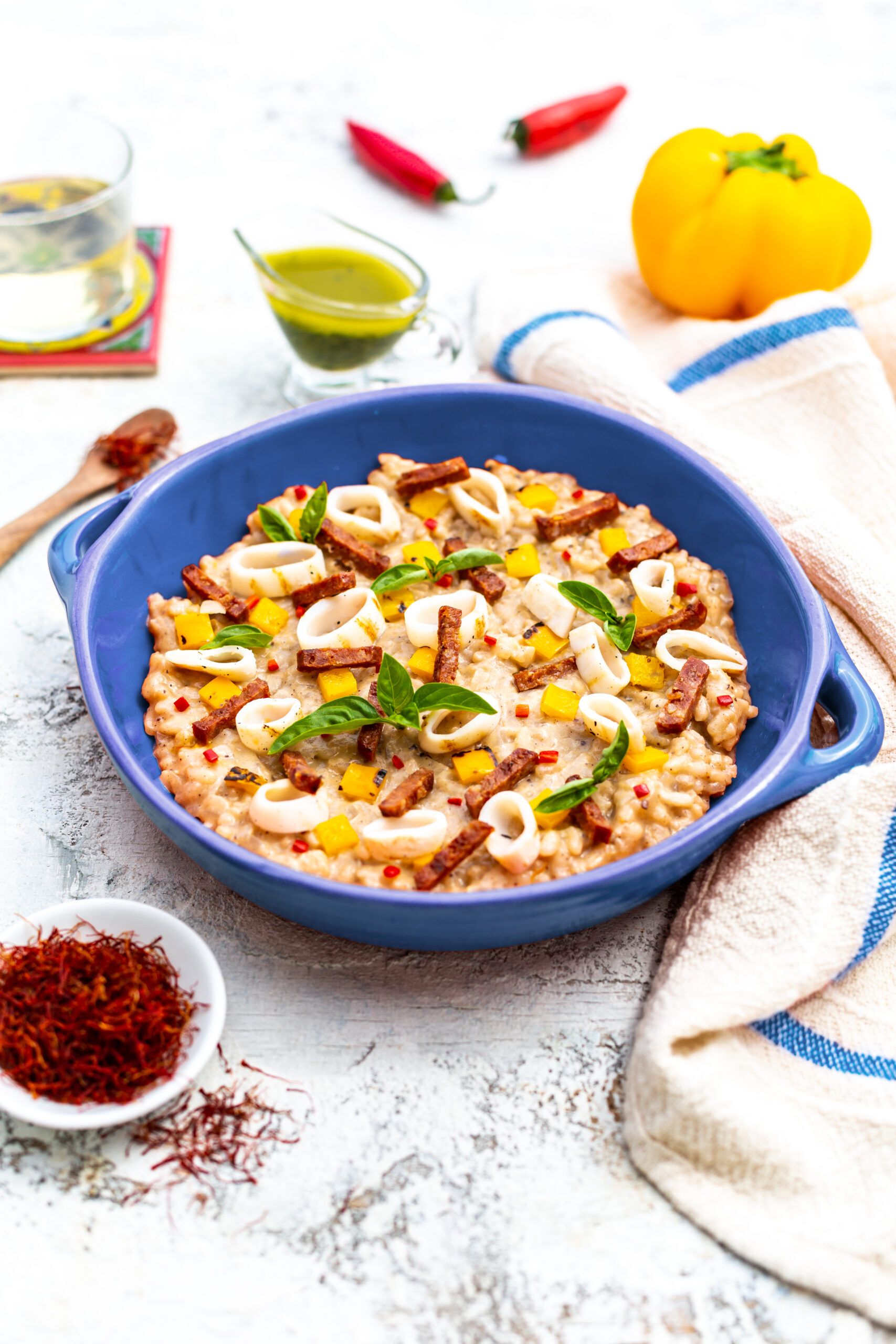 Cephalopods recipes
Spanish-Styled Squid Risotto with Herb Oil
This dish embodies Spanish flavours with saffron and chorizo sausage complemented by hints of sumac, coriander and cumin. It's a rustic and hearty risotto made with an  aubergine puree, grilled Patagonica squid and specs of sweet yellow pepper which is  served with a fresh herb oil – the perfect comfort food!
Recipe by: Kelly Mitchell
Image by: Liebe de Klerk
Wine pairing by: Chene Reader

1-2 hours

Beginner
STEP BY STEP INSTRUCTIONS:
For the aubergine puree, pre-heat the oven to 180°C. Prick the aubergine and roast, 20 minutes.
Heat the oil in a saucepan and sauté the cumin and coriander, 1 minute. Add the garlic and thyme and sauté, 1 minute. Add the squid wings and sauté, 2 minutes. Scoop out the aubergine flesh and add it to the saucepan. Add the lemon juice and blend until smooth. Pass through a sieve, if preferred. Set aside.
For the herb oil, whisk the ingredients together, season to taste and set aside until needed.
For the risotto, heat the oil in a saucepan over medium heat and sauté the onions until tender, 3 minutes. Stir in the rice and sauté, 1 minute. Add the garlic and sauté, 2 minutes. Add the wine and stir until fully absorbed, 2 minutes. Add the fish stock, one ladleful at a time. Stir after each ladleful until all of the stock has been absorbed before adding the next ladle of stock. Add the saffron and sumac half way through the cooking process. Continue until all of the stock has been absorbed. Add 125ml (½ cup) of the aubergine puree. Whisk in the butter, Parmesan and salt.
To serve, heat a griddle pan until smoking hot. Cut each squid into rings. Grill each piece of squid until charred, 15 seconds per side. Season with the salt and drizzle with the lemon juice. Slice into rings.
Spoon the risotto into serving dishes and top with the herb oil, grilled squid, chorizo, yellow pepper and red chili. Scatter some basil leaves on top.
TIP: For a cheat's version if time is of the essence, the aubergine puree can easily be replaced with a tub of readymade baba ghanoush found at delis and selected supermarkets.
Wine pairing: Sauvignon Blanc, Paarl region

Recipe for 3 people
Ingredients:
AUBERGINE PUREE INGREDIENTS:
1 (200g) large aubergine
15ml (1 tbsp) sunflower oil
5ml (1 tsp) cumin seeds
5ml (1 tsp) coriander seeds
15ml (1 tbsp) garlic, finely chopped
15ml (1 tbsp) thyme
30ml (2 tbsp) squid wings
5ml (1 tsp) lemon juice
salt and pepper
HERB OIL INGREDIENTS:
45ml (3 tbsp) basil pesto
15ml (1 tbsp) olive oil
5ml (1 tsp) lemon juice
salt and pepper
RISOTTO INGREDIENTS:
15ml (1 tbsp) olive oil
180ml (¾ cup) onions, finely chopped
180ml (¾ cup / 120g) Arborio rice
5ml (1 tsp) garlic, finely chopped
30ml (2 tbsp) dry white wine
500ml (2 cups) fish stock
2.5ml (½ tsp) saffron
3.75ml (¾ tsp) sumac
60ml (¼ cup) salted butter
30ml (2 tbsp) Parmesan cheese, finely grated
5ml (1 tsp) salt
TO SERVE:
150g Pescanova Patagonica squid, cleaned
pinch salt
2.5ml (½ tsp) lemon juice
125ml (½ cup) Chorizo, sliced and grilled
125ml (½ cup) yellow pepper, grilled and cubed
15ml (1 tbsp) red chili, grilled and finely chopped
handful basil