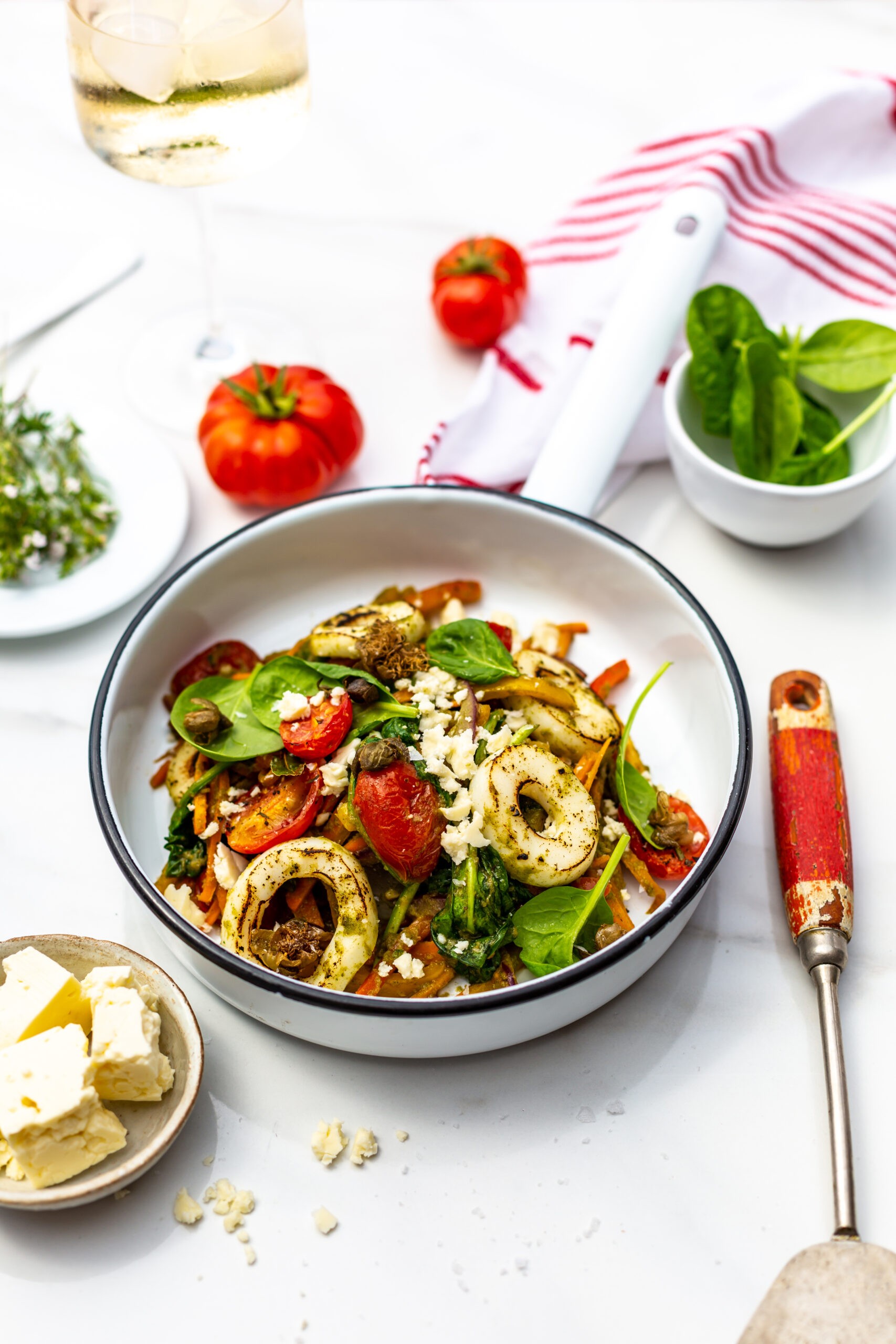 Cephalopods recipes
Garlic Squid and Caper Chermoula Stir-Fry
This squid and veggie stir-fry combines all its crunchy textures with the fresh and spicy flavours from the chermoula for a unique Mediterranean taste experience! The garlic-marinated squid rings are stir-fried with julienne vegetables, baby spinach and roasted tomatoes and the dish is finished with a spicy caper chermoula sauce and some crumbled feta – perfect for the whole family!
Serves 4
Difficutly: A little effort
Preparation time: 1 hour
Cooking time: 25 minutes
Recipe by: Shanay Petersen
Image by: Juwan Beyers
Wine pairing by: Lizamarie van Niekerk

1-2 hours

Intermediate
Pre-heat the oven to 200°C.
For the squid, combine the oil, garlic and squid rings. Refrigerate, 20 minutes.
For the roasted tomatoes, toss the tomatoes, oil, thyme, bay leaf and rosemary together. Season with salt and pepper and roast, 15 minutes.
For the caper chermoula, combine all of the ingredients in blender and process until smooth, 2 minutes.
For the stir-fry, heat a splash of olive oil in a large cast iron pan over high heat. Add the marinated squid and sauté, 1 minute. Add the carrots, red peppers, yellow peppers and onions and sauté, 4 minutes. Add the roasted tomatoes and spinach and sauté, 1 minute.
To serve, drizzle the chermoula sauce over the stir-fry and sprinkle the feta on top.
TIP: For an authentic South African twist replace half of the peppers with fresh sweetcorn kernels instead.
Wine pairing: MCC Brut Rosé, Helderberg region

Recipe for 4 people
Ingredients:
SQUID INGREDIENTS:
60ml (¼ cup) olive oil
20ml (4 tsp) garlic, finely chopped
400g Pescanova Natural squid rings
ROASTED TOMATOES INGREDIENTS:
150g cocktail tomatoes, halved
15ml (1 tbsp) olive oil
5ml (1 tsp) thyme, chopped
1 bay leaf
5ml (1 tsp) rosemary, chopped
salt and pepper
CAPER CHERMOULA INGREDIENTS:
15ml (1 tbsp) green jalapeño, deseeded
15ml (1 tbsp) garlic, chopped
15ml (1 tbsp) lemon juice
pinch smoked paprika
60ml (¼ cup) coriander, chopped
60ml (¼ cup) parsley, chopped
60ml (¼ cup) red onion, chopped
5ml (1 tsp) tahini paste
25ml (5 tsp) olive oil
60ml (¼ cup) capers
30ml (2 tbsp) brown sugar
STIR-FRY INGREDIENTS:
olive oil, for stir-frying
200g carrots, peeled and julienned
100g red pepper, julienned
100g yellow pepper, julienned
100g red onion, thinly sliced
100g baby spinach
250ml (1 cup / 90g) feta, crumbled