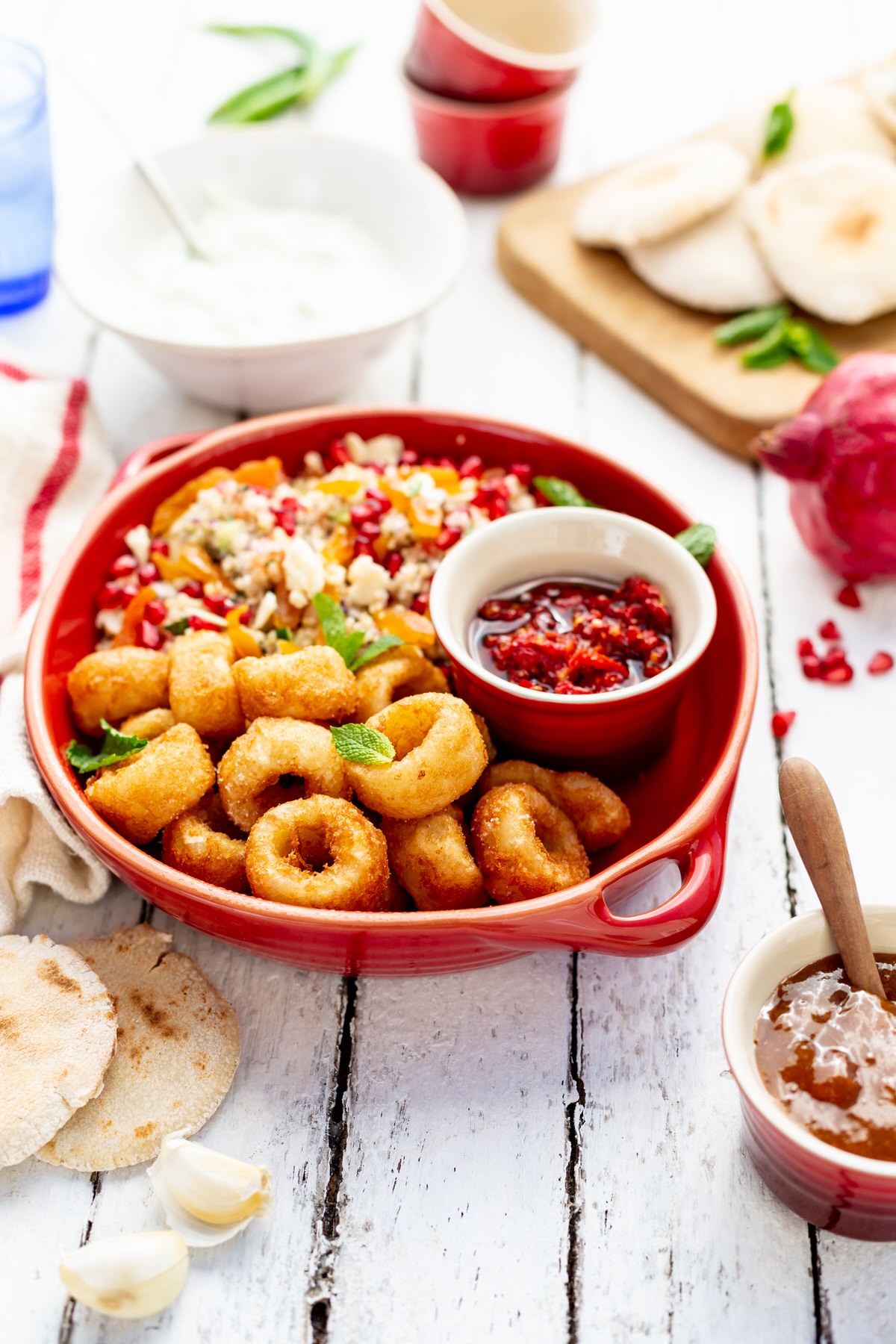 Cephalopods recipes
Mediterranean Seafood Mezze Bowl
A light and healthy seafood salad inspired by the Mediterranean lifestyle of sharing small plates of different foods with your loved ones. This salad is made up of a chunky quinoa salad with pomegranate seeds, crumbled feta, olives, dried apricots and fresh herbs. It is served with deep-fried seafood rings making this a hearty salad fit for lunch or dinner. Serve it with some toasted pitas or flatbreads for sharing.
Serves 2
Difficulty: Easy
Preparation time: 15 minutes
Cooking time: 30 minutes

30 min

Beginner
TO SERVE
sunflower oil, for deep-frying
250g Pescanova Tapas battered formed mini rings
6 mini pita breads, toasted
handful mint leaves, to garnish
Pre-heat the oven to 180°C.
For the quinoa salad, add the quinoa to a saucepan, cover with water and cook covered,10 minutes. Cool.
Toss the quinoa with the remaining salad ingredients and season to taste.
For the apricot preserve, combine all of the ingredients in a saucepan over medium heat and simmer until soft, 10 minutes. Blend until smooth.
For the tzatziki, combine all of the ingredients and set aside.
To serve, heat the oil for deep-frying to 180°C. Fry the rings until golden, 5 minutes. Drain on kitchen paper.
Add the salad, apricot preserve, additional sun-dried tomatoes, tzatziki, deep-fried rings, pitas and mint leaves to different serving dishes and allow each guest to dish for themself mezze-style.
Tip: For a healthier alternative, bake the rings at 180°C for 10 minutes instead of deep-frying.
Wine pairing: Bukettraube, Darling region
Recipe and image by: Robin Manktelow
Wine pairing by: Lizamarie van Niekerk

Recipe for 2 people
Ingredients:
QUINOA SALAD INGREDIENTS:
125ml (½ cup / 100g) quinoa
250ml (1 cup) water
125ml (½ cup / 70g) cucumber, diced
125ml (½ cup / 70g) tomato, diced
125ml (½ cup / 100g) red onion, diced
100g flaked almonds, toasted
60ml (¼ cup) mint, chopped
60ml (¼ cup) parsley, chopped
60ml (¼ cup) olives, chopped
125ml (½ cup) pomegranate rubies
60ml (¼ cup) feta, crumbled
60ml (¼ cup) dried apricots, thinly sliced
30ml (2 tbsp) sundried tomatoes + extra to serve
15ml (1 tbsp) lemon juice
salt and pepper
APRICOT PRESERVE INGREDIENTS:
250ml (1 cup / 100g) dried apricots
60ml (¼ cup / 50g) sugar
125ml (½ cup) water
30ml (2 tbsp) medium curry powder
TZATZIKI INGREDIENTS:
250ml (1 cup) double cream yogurt
15ml (1 tbsp) olive oil
60ml (¼ cup) cucumber, grated
1 (4g) garlic clove, creamed
1 medium lemon, zested
30ml (2 tbsp) lemon juice