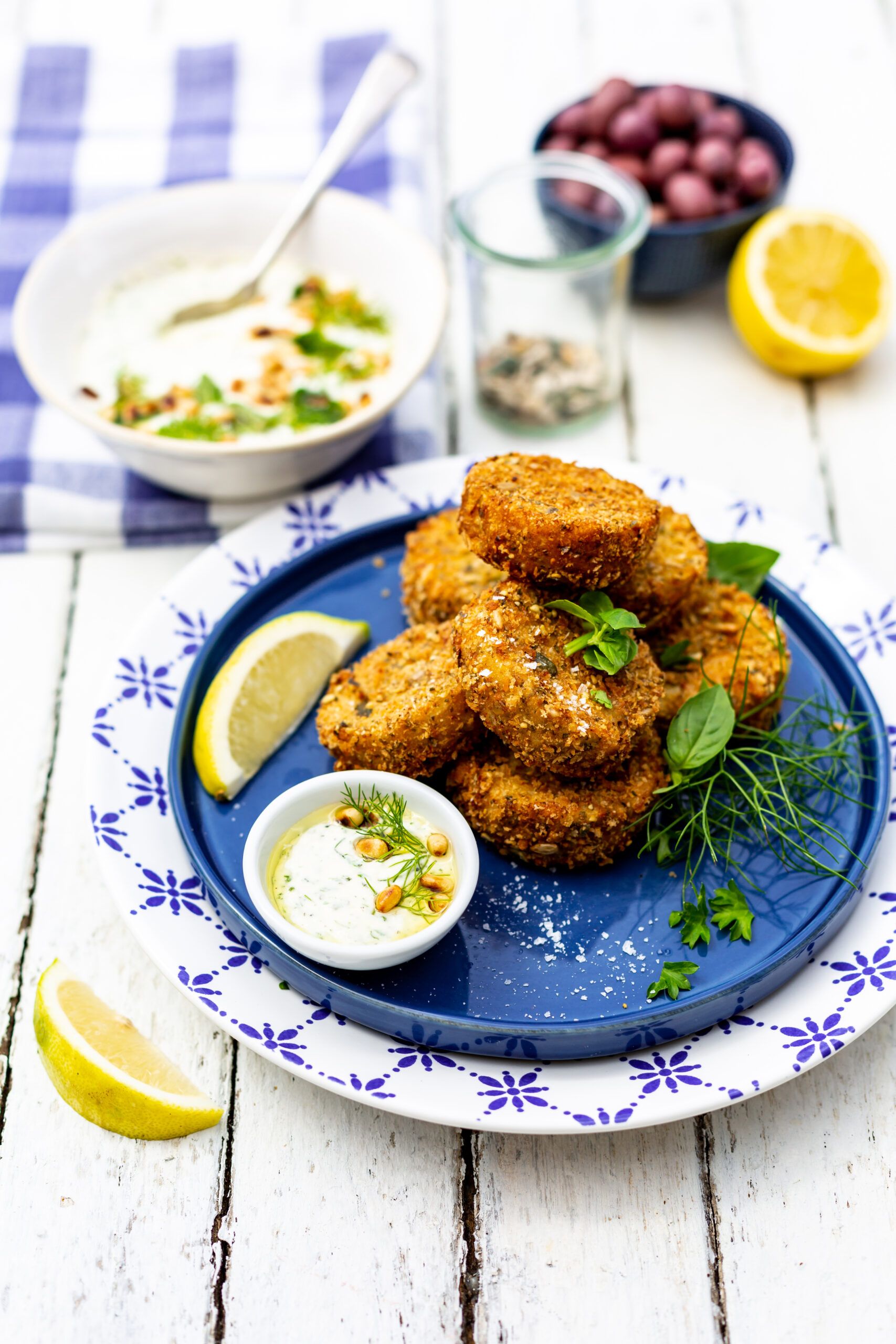 Seafood recipes
Orzo Prawn Cakes with Feta and Herb Sauce
These delicious Mediterranean-inspired prawn cakes are uniquely made with orzo pasta that not only binds all the ingredients but it also adds texture. Flavoured with Kalamata olives, fresh herbs, garlic and lemon, the mixture is shaped and coated with panko crumbs and seeds before deep-fried until crispy and golden. Served with a fragrant and creamy feta cheese and herb sauce, it makes for a light yet sophisticated mid-week meal.
Recipe by: Karla Strydom
Image by: Nické Spies
Wine pairing by: Siphokazi Mayaphi

1-2 hours

Beginner
For the prawn cakes, bring a pot of water to the boil. Add the prawns and boil, 2½ minutes. Refresh in ice water and strain. Flake with a fork into bite size pieces and refrigerate until needed.
Bring a pot of water to the boil, add the pasta and cook until al dente, 8 minutes. Rinse.
Blend 250ml (1 cup) of the cooked pasta in a food processor with 15ml (1 tbsp) water until fine, 1½ minutes.
Heat the olive oil in a pan over medium heat and sauté the onions until tender, 2 minutes.
Combine the remaining orzo with the pureed orzo, sautéed onions, flaked prawns and rest of the ingredients for the prawn cakes. Form into 12 thick patties. Arrange on a tray lined with plastic wrap. Cover with plastic wrap and freeze, 30 minutes.
Heat the oil for deep-frying to 180°C.
For the crust, combine the panko, pumpkin seeds and sunflower seeds in a large bowl. Dip each frozen prawn cake into the seasoned flour and shake off the excess. Dip each into the whisked eggs and lastly into the panko mixture to coat evenly.
Deep-fry the cakes until golden and crisp, 5 minutes. Drain on kitchen paper.
For the sauce, combine the feta, cream cheese and water in a food processor and blend until smooth. Stir in the parsley, mint and dill. Spoon the sauce into a serving dish and top with the pine nuts and a drizzling of olive oil
Serve the cakes topped with more herbs, if preferred, and add the sauce and lemon wedges on the side.
TIP:  For a lemon-flavoured sauce, add 15ml (1 tbsp) of lemon juice while blending the sauce in a food processor.
Wine pairing: Sauvignon Blanc, Helderberg region

Recipe for 6 people
Ingredients:
PRAWN CAKES INGREDIENTS:
450g Pescanova Argentinean prawn meat
330ml (1⅓ cup / 210g) orzo pasta
15ml (1 tbsp) olive oil
1 (160g) large onion, grated
1 (4g) clove garlic, finely chopped
20ml (4 tsp) Kalamata olives, pitted and chopped
10ml (2 tsp) parsley, finely chopped
10ml (2 tsp) basil, finely chopped
5ml (1 tsp) oreganum, finely chopped
5ml (1 tsp) chili flakes
30ml (2 tbsp) lemon juice
2.5ml (½ tsp) lemon zest
1 large egg
5ml (1 tsp) salt
2.5ml (½ tsp) black pepper, finely ground
sunflower oil, for deep-frying
CRUST INGREDIENTS:
750ml (3 cups) panko crumbs
125ml (½ cup) pumpkin seeds, chopped
125ml (½ cup) sunflower seeds, chopped
250ml (1 cup / 125g) cake flour
2.5ml (½ tsp) salt
4 large eggs, whisked
FETA AND HERB SAUCE INGREDIENTS:
330ml (1⅓ cup / 170g) Danish feta, crumbled
80ml (⅓ cup / 80g) cream cheese, room temperature
15ml (1 tbsp) water
5ml (1 tsp) parsley, finely chopped + extra to serve
5ml (1 tsp) mint, finely chopped + extra to serve
5ml (1 tsp) dill, finely chopped + extra to serve
30ml (2 tbsp) pine nuts, toasted
olive oil, to drizzle
TO SERVE:
6 lemon wedges