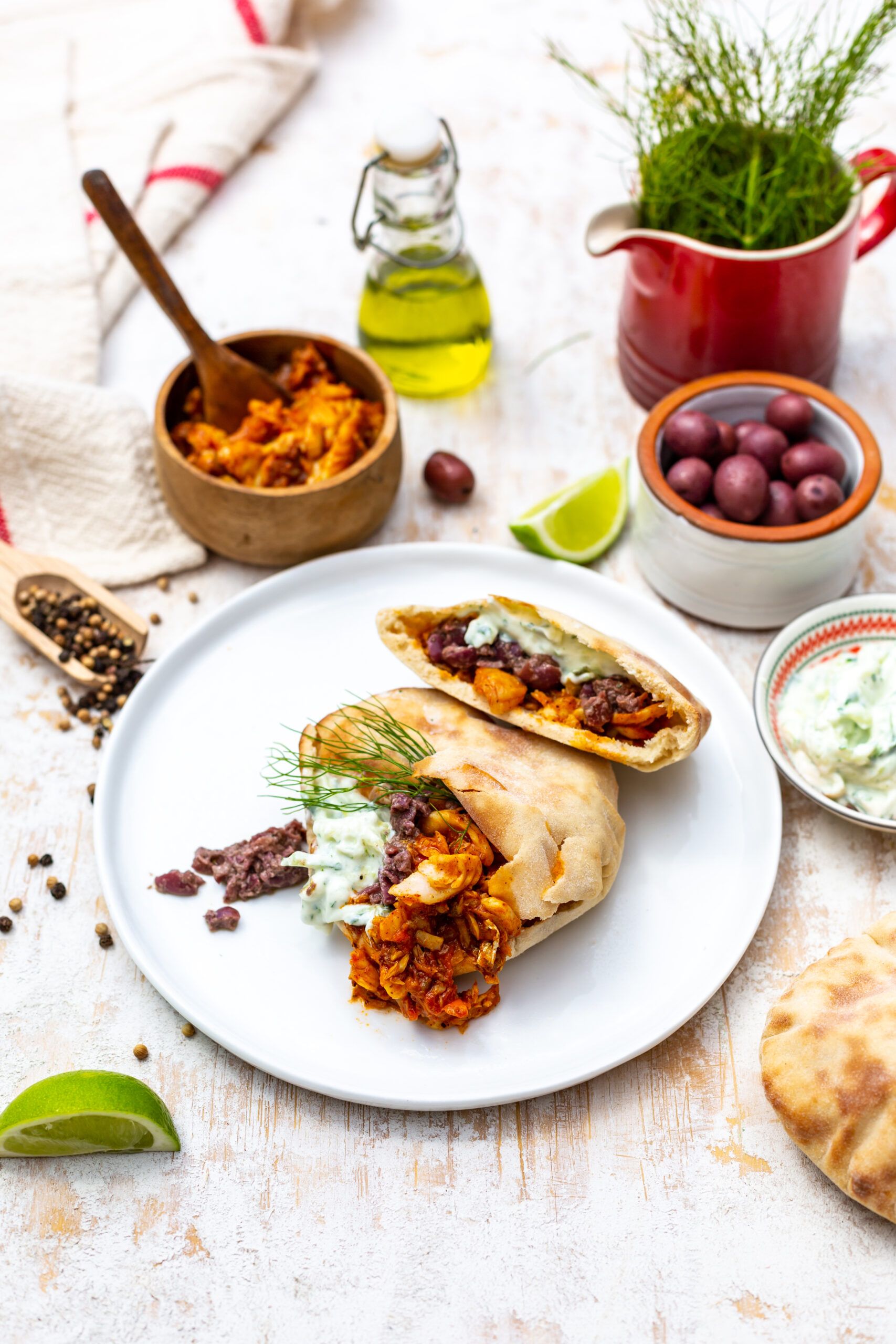 Fish recipes
Shakshuka-Style Hake Pitas with Fennel Tzatziki and Olive Tapenade
Inspired by the diverse cultures of the Mediterranean – North-Africa, Greece and France – this dish is a true Mediterranean feast! The tender hake fillets are steamed on top of the tomato base and then gently flaked into the sauce. The homemade pita pockets are then filled with the rich spicy fish sauce, salty olive tapenade and creamy tzatziki – perfect for lunch or dinner!
Recipe by: Megan Barnard
Image by: Ruben Steyn
Wine pairing by: Daniel de Vos

1-2 hours

Beginner
Pre-heat the oven to 240˚
For the pitas, whisk all of the ingredients together, except for the flour. Slowly add the flour to form a dough. Knead on a clean surface, 2 minutes. Cover and set aside to rise, 30 minutes.
Divide the dough into 4 equal parts. Shape the dough into balls. Roll each ball out to a round disc with a thickness of 0.5cm. Arrange on a baking tray and bake, 5 minutes. Cool.
For the shakshuka hake, heat the oil in a pot over medium heat. Add the onions, garlic and jalapeños and sauté, 5 minutes. Stir in the coriander, sumac, cumin, fennel, turmeric, chilli flakes and salt. Add the lemon juice, tinned tomatoes and tomato paste. Place the fish on top of the sauce, skin-side down, turn the heat down to low and cover with a lid. Simmer, 10 minutes.
Remove the fish skins, flake and add it back in with the sauce.
For the tapenade, place all of the ingredients in a food processor and blend until smooth, 2 minutes.
For the tzatziki, press out any excess liquid from the grated cucumbers and combine with the rest of the ingredients.
To serve, cut the pitas open and spread the tapenade on the inside of each pita. Spoon the fish shakshuka inside and top with a dollop of tzatziki. Serve the pitas topped with more chopped fennel and with lime wedges on the side.
TIP: For a quick meal option when time is of the essence, replace the homemade pitas with shop bought pitas instead.
Wine pairing: Riesling, Simonsberg Paarl region

Recipe for 4 people
Ingredients:
PITAS INGREDIENTS:
30ml (2 tbsp) double cream yoghurt
160ml (⅔ cup) milk
45ml (3 tbsp) olive oil
5ml (1 tsp) salt
5ml (1 tsp) baking powder
500ml (2 cups / 240g) white bread flour
SHAKSHUKA HAKE INGREDIENTS:
45ml (3 tbsp) olive oil
125ml (½ cup) onion, diced
3 (12g) cloves garlic, finely chopped
60ml (¼ cup) Jalapeños, diced
2.5ml (½ tsp) ground coriander
2.5ml (½ tsp) sumac
2.5ml (½ tsp) ground cumin
2.5ml (½ tsp) ground fennel
2.5ml (½ tsp) ground turmeric
2.5ml (½ tsp) chilli flakes
5ml (1 tsp) salt
10ml (2 tsp) lemon juice
½ (200g) can tinned tomatoes
15ml (1 tbsp) tomato paste
200g Pescanova Namibian hake fillets
TAPENADE INGREDIENTS:
125ml (½ cup) black olives, pitted
75ml (5 tbsp) olive oil
10ml (2 tsp) lemon juice
2 anchovy fillets
2.5ml (½ tsp) capers
TZATZIKI INGREDIENTS:
250ml (1 cup) cucumber, grated
125ml (½ cup) double cream yoghurt
5ml (1 tsp) lemon juice
2.5ml (½ tsp) salt
5ml (1 tsp) fennel, finely chopped + extra, to serve
TO SERVE:
4 lime wedges