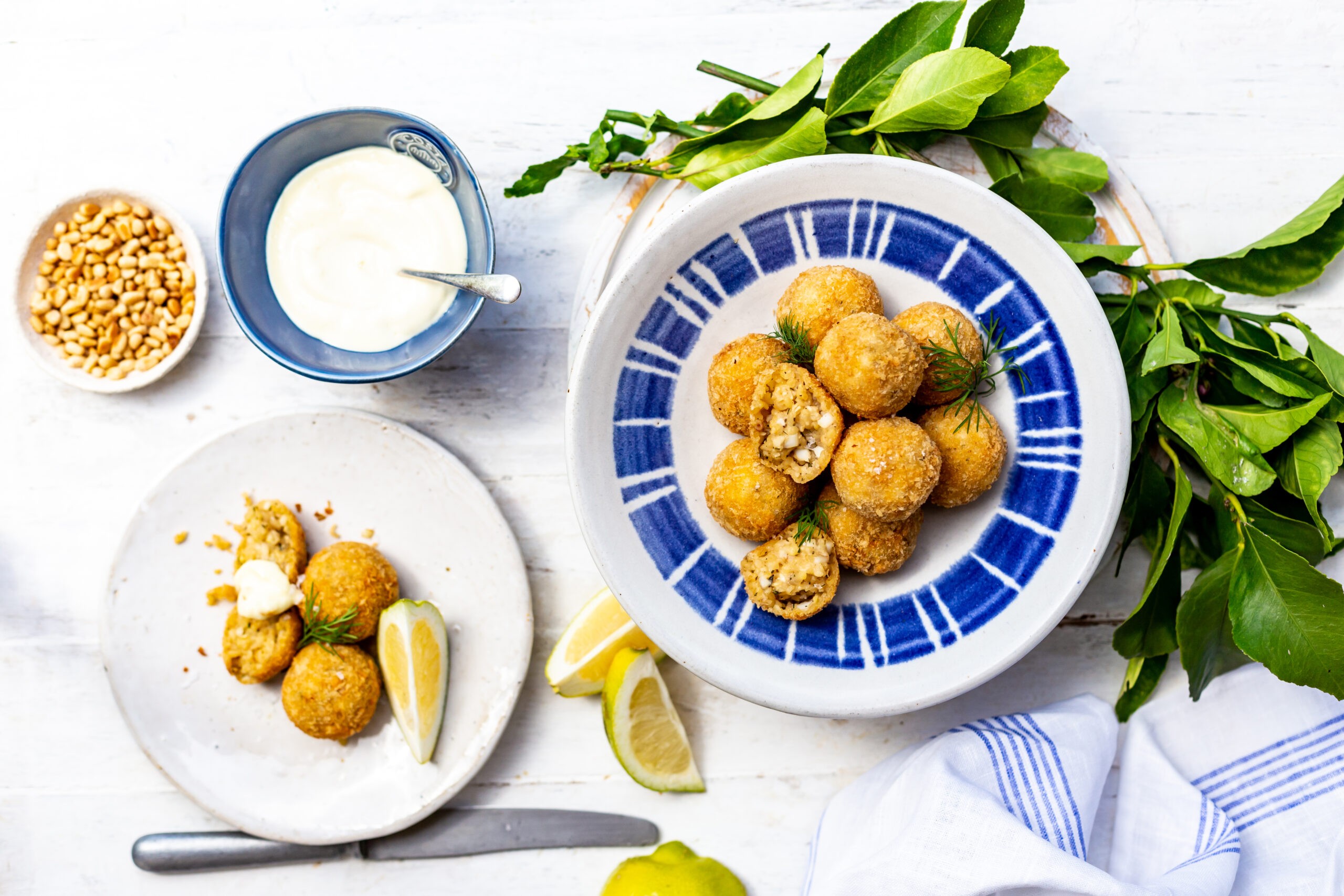 Cephalopods recipes
Squid and Bulgur Wheat Risotto Bites with Lemon Aioli
As bulgur wheat is one of the oldest and most popular grains in Greek cuisine, it replaces the traditional Italian Arborio rice in this risotto that is used to form these delicious Greek-inspired bites of flavour. With the addition of fresh mint, dill, feta cheese and pine nuts the bites burst with a fresh and nutty flavour. The tangy lemon aioli is the perfect accompaniment for these bites to serve as part of a Mediterranean mezze platter.
Makes 70
Difficulty: A little effort
Preparation time: 40 minutes
Cooking time: 45 minutes
Recipe by: Karla Visser
Image by: Robin Manktelow
Wine pairing by: Daniel de Vos

1-2 horas

Beginner
TO SERVE
handful lemon wedges
For the lemon aioli, combine the egg yolks, mustard, sugar, zest, vinegar, garlic and salt in a food processor and blend, 30 seconds. Slowly pour in the oil, in a steady stream while the motor is running, and continue until all of the oil is incorporated and the aioli is thick and creamy. Blend in the lemon juice.
For the risotto bites, heat the oil and butter in a large pot over medium heat. Add the onions, salt and pepper and sauté until soft, 5 minutes. Add the garlic and sauté, 1 minute.
Add the bulgur wheat and thyme and cook, 5 minutes. Stir in the white wine and cook while continuously stirring, 2 minutes. Take 125ml of the warm stock and mix it with the cornstarch. Set aside.
Add a ladleful of warm stock to the bulgur wheat mixture, stirring regularly between additions until fully absorbed. Continue until all of the stock has been absorbed. Add the cornstarch mixture to the risotto and cook, 3 minutes. Stir in the lemon juice. Cool, 10 minutes. Stir in the feta, pine nuts, mint and dill.
For the squid, season the medallions with the salt and pepper. Heat the oil in a large pan over high heat. Fry the squid medallions, 40 seconds per side. Cool, 5 minutes. Slice each medallion in half, lengthwise, and cut into ½cm x ½cm cubes. Add it to the risotto.
Shape the risotto into 70 x 30g balls.
For the crust, roll each ball into the flour and shake off the excess. Dip each ball into the whisked eggs and lastly into the panko crumbs to coat evenly.
Heat the oil for deep-frying to 180°C. Deep-fry the bites until golden and crisp, 3 minutes. Drain on kitchen paper.
Sprinkle some dill over the risotto bites and serve it with the aioli and lemon wedges on the side.
TIP: The risotto mixture can also be eaten as is, without crumbing and frying, as a main course for 4-6 people.
Wine pairing: Pinot Noir, Elgin

Recipe for 8 people
Ingredients:
LEMON AIOLI INGREDIENTS:
2 large egg yolks
10ml (2 tsp) Dijon mustard
20ml (4 tsp) castor sugar
10ml (2 tsp) lemon zest
10ml (2 tsp) white wine vinegar
½ (2g) clove garlic, finely chopped
5ml (1 tsp) salt
330ml (1⅓ cup) canola oil
45ml (3 tbsp) lemon juice
RISOTTO BITES INGREDIENTS:
45ml (3 tbsp) olive oil
20ml (4 tsp) butter
1 (160g) medium onion, finely chopped
20ml (4 tsp) salt
10ml (2 tsp) black pepper, finely ground
30ml (2 tbsp) garlic, finely chopped
460g bulgur wheat
2 sprigs thyme
5ml (1 tsp) lemon zest
250ml (1 cup) white wine
1500ml (6 cups) fish stock, warm
30ml (2 tbsp) cornstarch
60ml (¼ cup) lemon juice
250ml (1 cup) feta, crumbled
125ml (½ cup) pine nuts, toasted and chopped
30ml (2 tbsp) mint, finely chopped
30ml (2 tbsp) dill, finely chopped + extra
SQUID INGREDIENTS:
400g Pescanova Natural squid medallions
15ml (1 tbsp) salt
5ml (1 tsp) black pepper, finely ground
30ml (2 tbsp) olive oil
CRUST INGREDIENTS:
250ml (1 cup) cake flour
4 large eggs, whisked
500ml (2 cups) panko crumbs
sunflower oil, for deep-frying